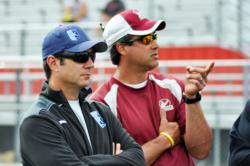 It was another great year in Las Vegas. This was the best group of athletes we have had in my nine years of the Aguiar/Husted Pro Camp. I'm looking forward to seeing many of these guys playing on Sunday's this season. Louie Aguiar
San Diego, CA (PRWEB) April 15, 2012
Retired NFL Punter Louie Aguiar and retired NFL Kicker Michael Husted say the 2012 Aguiar / Husted Pro Camp in Las Vegas was successful in providing pro opportunities for free agent kicking specialists, with pro teams offering workouts to some of specialists who attended the camp.
"This was another successful Aguiar / Husted Pro Camp with over 115 pro prospects learning and competing to get an opportunity to showcase their talents to NFL teams," said Husted. "And the level of talent this year was all time."
"Many guys stepped up their game while others continued to get quality instruction, not only from our coaching staff, but from one another through their experiences in pursuing their goal of playing in the NFL."
Husted continued, "This camp is not a 'one and done' event. We work very hard throughout the week to provide high quality instruction, evaluations through 40+ years of NFL experience."
Louie Aguiar agrees with Husted. "It was another great year in Las Vegas. This was the best group of athletes we have had in my nine years of the Aguiar/Husted Pro Camp. I'm looking forward to seeing many of these guys playing on Sunday's this season."
For some of the players, this may happen sooner than later.
According to Husted, several players were very impressive, including three kickers –who in very windy conditions- went perfect on field goals. This included Kenny Spencer, Austin Signor and Wes Byrum.
Based on their impressive performance, Kenny Spencer, Austin Signor and Jy Bond were brought in by the New York Jets for private workouts.
Other kicking specialists from the camp who will be getting pro opportunities include James Wilhoit, John Koker, Brady Beeson and Michael Banard who will all be getting worked out by the Arena Football League's Kansas City Command.
Husted said he is pleased with the opportunities these kicking specialists are receiving. He said this is the goal of the Aguiar / Husted Pro Camp; to provide opportunity for participants to be evaluated by NFL scouts and NFL Special Team coaches.
This year the three days of charting and instruction were provided by retired NFL coach Mike Stock and retired NFL players Michael Husted, Louie Aguiar, Mike Hollis and Mitch Palmer.
Hollis, who kicked in the NFL for nine years said, "Once again, the 2012 Aguiar/Husted Pro Camp supplied an awesome vehicle for a very large number professional prospective kickers, punters, and snappers. They have developed the most effective way for NFL scouts and coaches to witness young talented athletes within the most honest and realistic method of evaluation!"
Scott Cohen Assistant GM of the NY Jets, the team who will be working out some of the kicking specialists from this year's camp says "Going to Louie Aguiar and Michael Husted's Pro Camp is a must stop for every NFL team to evaluate the best punters, kickers and long snappers available. They run their camp with efficiency, professionalism and they take pride in the product they are presenting to NFL special teams' coaches and pro scouts."
For more information go to the new Aguiar / Husted website at http://www.specialteamsprocamp.com