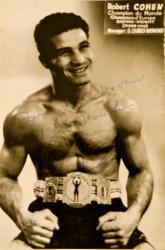 Gambuch, the biography of Robert Cohen, soon out !
(PRWEB) April 16, 2012
"Bangkok Stadium, 1954, 70,000 spectators. Robert Cohen, alias Gambuch, enters the stadium, in his red dressing gown, it is raining heavily, his heart is pounding, as he is carried over the mud soaked ground to the ringside. The stadium is immense, the crowds are howling and whistling. His opponent, Thailand's Fire Lizard (Chamroen Songkitrat) then enters the stadium, to a roaring crowd, whilst the Royal couple is watching from its private box. The atmosphere is absolutely hysterical...
Here is his chance to become Champion of the Noble Art. A film of his youth quickly unfolds in his thoughts, his hometown Bone (a small town in Algeria), his modest upbringing in a family of 14 children, his loving parents, the Algerian war, his arrival in Paris, his first fights, his brother Leon, and his sister Andree who awaits a favorable outcome of this match to finally have his permission to marry."
"Gambuch" (short legs in his native tongue) by Michel Rosenzweig is the story of Robert Cohen, the little pied-noir (French Algerian colonial) from Bone, who in less than three years achieved the exploit of becoming the champion of France, then Europe, and finally the world. Three breathtaking years of glory & honor, which were also the setting for a love story worthy of a fairytale that started in South Africa.
It is also a story of disappointment, betrayal & deception, which put an abrupt end to this World Champion's career.
Robert Cohen, a man of integrity, honor and traditional values, is 80 years old today and lives in Cape Town, South Africa.