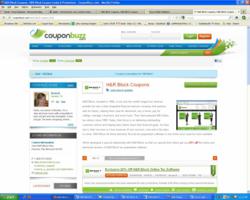 We'd like to encourage all of our site visitors to do themselves a favor and avoid late penalties and accruing interest by filing for an extension.
Houston, TX (PRWEB) April 16, 2012
Tomorrow is the final day for taxpayers to either file their 2011 taxes, or file a form 4868, Application for Automatic Extension of Time to File U.S. Individual Income Tax Return. Filing for a tax extension allows individuals six months extra breathing space before filing their completed 2011 federal tax return, which is then due on October 15th. As a courtesy to its online consumers, CouponBuzz.com is featuring a link to H&R Block's program for users to file a free extension.
"Chances are that if an individual hasn't filed their taxes by today they probably aren't going to make that April 17th deadline," said Justin Bowen, CEO of CouponBuzz.com. "However, we'd like to encourage all of our site visitors to do themselves a favor and avoid late penalties and accruing interest by filing for an extension. So we made sure we had a link up to H&R Block's free tax extension filing, a reputable vendor who can help individuals out of their tax time crunch."
Utilizing H&R Block's free tax extension filing is unbelievably simple. The first, and hardest step, is to calculate the estimated amount of tax owed by the individual taxpayer for the tax year 2011. In the vast majority of cases, this will be similar to the amount on their 2010 income tax form. It's not really worth stressing out about too much, the IRS accepts all tax extensions that are filed on time. Individuals who underestimate and pay less than the amount of taxes they actually owe will receive a late penalty of 0.5 percent per month of the total amount still owed, and interest on that amount. Users can either print the 4628 extension form and fill it out by hand, mailing it in with a payment of their estimated taxes owed, or fill the form out online, e-file it, and pay the taxes with a credit card, also online. And remember to keep an extra copy of the 4628 extension form for personal records.
If an individual files a tax extension, it doesn't mean that they are required to wait until October 15th before filing their 2011 tax return. In fact, they can submit their return as soon as April 18th if they wish. So don't worry about unduly delaying a tax refund check just because an extension has been filed. However, if a taxpayer fails to file by the April 17th deadline AND fails to file for an extension, they can expect to be assessed a heavy fine if they owe any taxes at all. (If an individual does not owe any taxes, they are probably due a refund, so filing is definitely in their interest.) Failing to submit a 2011 tax return or file for an extension is called tax evasion, and it is very illegal.
On a very important note for those individuals completing individual income tax returns, if no further taxes are owed, there's no reason to worry about filing an extension or making the April 17th deadline. Every penalty assessed is in the form of a percentage of the amount of taxes owed. If a taxpayer owes nothing, all they are doing is make an interest-free loan to the government until they file.
Finally, remember that the form 4628 is only an extension on the federal income tax filing. It does not always mean you get a state extension filed as well. Individuals who need both extensions may need to do them via separate forms, depending on the state in which they live. To get started filing a free tax extension today with H&R Block, visit CouponBuzz.com's H&R block coupon section at http://couponbuzz.com/handr-block-coupons.html for the link to the free extension filing.