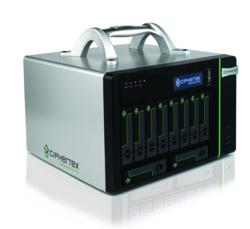 The CX-10K-NAS's ability to act as an extremely fast shared 'file folder' for Windows, Mac and Linux OS platforms coupled with its high reliability and compact portability make it the ideal storage system for on-location shoots
Las Vegas, Nevada (PRWEB) April 16, 2012
Ciphertex, the leading secure, portable data storage systems provider will debut their new CX-10K-NAS (Network Attached Storage) and CX-R12K-NAS systems at this year's NAB show, in booth SL12107.
The new 10-bay portable CX-10K-NAS and 12-bay rackmount CX-R12K-NAS RAID systems are aimed at providing extremely high performance and secure data storage for on-set and near-set productions, TV episodic, commercial and post production digital cinema workflow applications.
The compact, rugged and portable CX-10K-NAS system with up to 40TB of storage capacity eliminates the need to handle bulky sets of hard disks – offering the director of photography and production personnel the ability to directly transfer their RAW digital camera footage into a secure, portable NAS storage system for direct ingest to a near-set production cart or to be used for secure shipment to a post facility for further processing. The CX-10K-NAS delivers a sustained transfer rate of up to 1,000 MB/s and 100,000 IOPS, easily accommodating three streams of 1080p24 at 16 bit RGB, three streams of 2K x 1,556p24 at 16 bit RGB or one stream of 4Kp24 (RED) at 10 bit RGB. Security is guaranteed by the highest standard AES 256-bit encryption, ensuring that the data can't be pirated or stolen. Moreover, the CX-10K-NAS being VMware ready, Citrix XenServer ready and Windows Hyper-V complaint, can simultaneously provide storage for IP-SAN (iSCSI) and NAS file sharing implementations and allows for extremely fast data transfer directly to a PC/Mac near-set production system via eSATA, USB-3 or network via its 10GbE interface.
"The CX-10K-NAS's ability to act as an extremely fast shared 'file folder' for Windows, Mac and Linux OS platforms coupled with its high reliability and compact portability make it the ideal storage system for on-location shoots," said Jerry Kaner, president and CEO of Ciphertex. Huge time and cost savings are achieved since the CX-10K-NAS can directly connect to a near-set production system (with applicable GPU accelerators, DVD burner, RAID storage, NLE (Non-Linear Editing), color timing and transcoding software), allowing on-location ingesting, transcoding and monitoring of the RAW footage in real-time, applying first pass color correction right on location and even burn a Blu-rayTM disc for full resolution dailies with the viewing LUTs (Look Up Tables) applied. Acting as a shared storage device connected to an NLE system via a 10GbE/GbE switch, editors can be moved on location to begin editing scenes an hour or two after dailies have been created – saving additional time and money.
Ciphertex has also extended their wire-speed, highest level security architecture and top of the line performance features to the rack mount CX-R12K-NAS RAID. Deployed into portable near-set workflows, these Ciphertex secure NAS systems can significantly reduce the production
time and expense for on-location shoots, offering an extremely flexible, open platform storage system that delivers unprecedented on-location digital image processing performance for the most demanding digital cinema workflows. Quick turnaround of editorial deliverables is ensured with up to 48 TB of storage capacity operating at up to 1,000 MB/s throughput.
Expanding the system to 72 data drives via JBOD expansion enclosures, production and post production workflows can be further enhanced by deploying the cost-efficient Ciphertex CX-R12K-NAS system as a NAS + iSCSI combination storage center for virtualized or clustered workgroup applications. The CX-R12K-NAS with built-in advanced RAID management with hot-swap design, simple-to-use sophisticated system management tools driven from a web-based GUI, AES 256-bit hardware encryption, and high network bandwidth allow this system to easily drop into any post production IT architecture.
"The ever-increasing market adoption of our secure data storage technology is a testament of our ongoing commitment to providing the best-in-class portable and fixed storage solutions for business critical environments where security, portability, speed, reliability and I/O versatility are key requirements," concluded Kaner. "We will continue to drive innovation with industry leading products like our new CX-10K-NAS and CX-R12K-NAS while further investing in our technological leadership to better serve our customers."
Joining these new systems on the NAB show floor will be the complete lineup of Ciphertex's secure, portable data storage systems including the single drive CX-2500ES , 1TB (New Capacity) and CX-3500E, 2TB; portable RAID CX-RANGER-AV, 5TB and CX-RANGER-AVX, 15TB; and CX-5000NAS, 15TB.
About Ciphertex Secure Data Storage
Ciphertex is the leading provider of secure, portable data storage systems using advanced hardware encryption, guaranteeing the highest level of data security and performance for the forensics, oil and gas, government, entertainment and healthcare markets. Ciphertex DAS and NAS systems offer unparalleled performance, security and reliability – seamlessly integrating hardware based AES 256-bit encryption with the latest in RAID storage technologies and smart chassis design. Designed-in flexible connectivity is guaranteed with each system able to support the leading storage interfaces and operating systems. Each multi-bay Ciphertex system also offers simplistic functionality and setup via its graphical user interface combined with a powerful data management software suite.
Ciphertex was named the best startup by InformationWeek Analytics at Interop 2011.
Through key global partnerships, Ciphertex systems are sold around the world through a growing number of resellers and distributors. For more information about Ciphertex Secure Data Storage, please visit http://www.ciphertex.com.