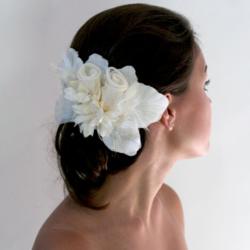 Washington, DC (PRWEB) April 16, 2012
Esteemed hair accessory designer Andrea's Beau will have several signature designs featured in the upcoming Kat Caito film L!fe Happens starring actresses Krysten Ritter, Kate Bosworth and Rachel Bilson. The comedy relates the story of two friends dealing with the struggles of parenthood after one becomes unexpectedly pregnant. Ritter is seen wearing Mitsaki (http://www.andreasbeau.com/olive-headband.html) and Sakura (http://www.andreasbeau.com/sakura-headband.html) headbands, both from the Andrea's Beau collection.
Located in Washington, D.C., Andrea's Beau hand crafts original hair accessories for women and girls. Sought after for their classic designs and impeccable craftsmanship Andrea's Beau headbands have been a wardrobe staple of beautiful, confident women for over twenty years. This marks the second time in the past year that one of Andrea's designs has been featured in a major motion picture, with actress Mary Louise Parker appearing in RED (2010) wearing her Gossamer Salon Clip (http://www.andreasbeau.com/gossamer-flower-salon-clip.html), which has been sold in Anthropologie. The film's release comes at a pivotal moment for Ritter, who stars in the new ABC comedy Don't Trust the B- in Apartment 23, which debuted to strong reviews this Wednesday.
Andrea's Beau products can be purchased at http://www.andreasbeau.com and through retail partners worldwide.