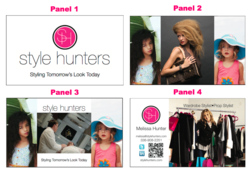 I saw this business card as a way to show prospective clients that I have new and different ideas to bring to their marketing program. I anticipated that it would go over well, but I have to tell you it exceeded my expectations by miles. - Bryan Biddle
Jamestown, NC (PRWEB) April 17, 2012
Memory Cross and Wall Printing have developed a new business card design. This new design has four sides and folds to make a never ending loop. The new patent pending design has several advantages.
First the design is so radically different from traditional business cards that people are amazed the first time they see it. This helps make a company and it's message stand out.
Second because the card has four panels it allows an elevator pitch to be incorporated into the business card. An elevator pitch answers the question why do people want to do business with your company. The guidelines for creating an elevator pitch include: Figure out what is unique about what you do, make it exciting and keep it simple. More information is available on the website.
This patent pending business card is the size of a regular card but it is die cut in such a way that the finished product has four panels. The card folds from one panel to the other and then starts again.
The design is the first thing that captivates people who see it. Since there is nothing on the market similar in design, it stands out. The most powerful benefit of this card though is the ability to convey a short but powerful message to prospects and customers in an interesting and creative package. The ability to put an elevator pitch on a business card is truly powerful. The card can include a QR code, which allows for fast access to more information. People with smart phones can instantly scan the code and be taken to a website or video.
Most people don't think much about their business card, but business cards can be a very powerful tool in helping to develop new business. Some things to think about when creating a business card include:
Does it help you win clients?
Will people remember it and your company?
Does it start a conversation?
Does it let people know what your company is all about?
Do people show it to others?
Does it link to the web?
Does it make an impact?
If the answer is no to many of the questions then visit Creative Business Cards and start the process of making your business cards an effective tool in helping grow your business.
About Wall Printing: Wall Printing is a commercial printer that creates unique packaging and die cut marketing pieces to help businesses increase sales.
About Memory Cross: Memory Cross creates fun creative origami style cards to share the Gospel, teach children Bible Stories and help kids memorize scripture. They also create origami style cards that help children learn their ABC's and how to live healthy lives. Designs include educational tools about My Plate, the new USDA resource for helping children and adults live healthier lives.