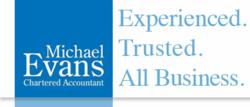 I look back and recall the many challenges we've faced along the way. And throughout those 10 years, Mike Evans has been there to help us with his professional expertise.
Toronto, Ontario (PRWEB) April 17, 2012
Michael Evans, Chartered Accountant in Toronto, has launched a new website. Michael Evans demonstrates how he delivers on his team's mission: to ensure clients have the time to focus on managing and growing their businesses and the peace of mind that comes from knowing their finances are well looked after.
Michael Evans, Chartered Accountant, opened its doors in 1999. Prior to this, Evans, a graduate of the University of Toronto, spent almost 14 years honing his practical skills at two mid-sized accounting firms.
Driven to realize a life-long dream of "making it on his own," Mike set out to brand himself as an advisor to small business owners. After 25 years of experience in accounting, Evans still continues to stand a cut above his competitors with his signature collaborative approach to business consulting and expedited turn-around times. For over two decades his brand has been fueled by his passion for his clients' financial success.
Evan says, "Whether your organization is a company with sales in the millions or a small and growing business—your success is our success. More than just doing tax returns, clients in Toronto and the surrounding areas get peace of mind that comes with knowing they have put their financial affairs in hands they can trust. This is our raison d'être—the only reason we exist."
Over the years, Evans' brand promise has revolved around providing critical financial and business advice to non-financial managers. The Michael Evans, Chartered Accountant, brand of customer service guarantees the team's availability throughout the life of each project. Evans and his team have forged solid relationships with their clients by investing their time. Evans takes the time necessary to act as a sounding board; and most importantly, he takes the time to learn everything he can about his clients' businesses. He takes the time to figure out which paths will lead to his clients' success. The resulting effect of his due diligence—his persistent attention to the details of his clients' businesses—is his clients' peace of mind.
At Michael Evans, Chartered Accountant, developing targeted solutions that are aligned to their clients' individual or corporate objectives is their goal. The Michael Evans team keeps up to date on all accounting and tax laws as well as related regulations in order to help their clients to take advantage of every applicable deduction and credit. Their service offering include:
1) Annual Financial Statements—Notice to Reader, Review Engagement, and audited financial statements for non-profit organizations.
2) Tax Planning and Tax Return Preparation in Toronto
3) Business Consulting
Michael Evans, Chartered Accountant is a team of knowledgeable, friendly professionals who provide impeccable service to individuals, businesses and non-profit organizations in the Greater Toronto Area. Their office is located in Pickering, Ontario. Their service area spans Durham Region as well as Scarborough, Markham, Stouffville, Vaughan and the City of Toronto. For more information visit Michael Evans, Chartered Accountant, at gtaaccountant.com.
SEO Press Releases by IFM Search Engine Optimization in Toronto