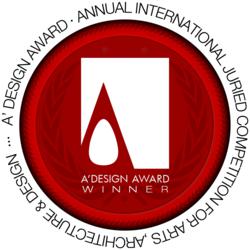 Best Designs, Design Concepts and Design Oriented Products were Awarded
Como, Italy (PRWEB) April 15, 2012
After a tedious evaluation by the 30-member experienced jury panel composed of Academics, Business Professionals, PR Experts and Focus Group of End-Users, 259 distinct and creative entries were awarded with the A' Design Award. Awards were given in 40 categories such as Furniture Design, Packaging Design, Interior Design, Industrial Design, Interaction Design, Graphics Design, Architecture, Arts and others.
Awarded Entries
Award winning designs and projects are on currently display at: http://www.awardeddesigns.com and the full list of 2011-2012 period A' Design Award Winners are available online at: https://www.adesignaward.com/winners.php. Press Members can access or request high-resolution images and additional information such as the profiles and contact information of the winner designers. Furthermore, interviews with the winner designers are available at http://www.design-interviews.com
Gallery
The A' Design Awards' photo gallery is accessible online: https://www.adesignaward.com/gallery.php. A' Design Award hereby grants all the press members the needed rights to use the interviews and images to publish the winning works for news purposes, but please do kindly send us a notification so we could share with our winners.
Gala-Night
Winners, press members and industry contacts are invited to take part in the A' Design Award & Competitions' awarding ceremony where winners will be presented their awards by the esteemed jury members. The exclusive black-tie gala-night is a perfect opportunity for networking, to know and meet fellow designers, press members and industry leads. Gala-Night will take place at 16th June 2012 between hours 6 pm to 11 pm at the magnificent Villa Gallia, located at the Como Lake in Italy. Press members can contact support@adesignaward.com for an exclusive invitation.
Exhibition
Award winning designs exhibition will take place in historical Broletto di Como. The opening ceremony will be at 17th June 6 pm. The exhibition will be open between the dates 16th June 2012 to 1 July 2012 between hours 9 am to 5 pm continued. The exhibition is free entry, and is open to everyone.
Yearbook
Award winning designs will be published as the A' Design Award & Competition Yearbook 2011-2012, the book also includes high-resolution images of the winner entries. The Winners' book is freely available for press members, and is also included for free in the Winners' Package which will be distributed in the Gala-Night and Exhibition.
Global Designer Rankings
Worlds' top designers, artists, architects and design oriented companies are ranked and listed online at Designer Rankings based on the number of A' Design Awards they have won. The latest rankings can be viewed at http://www.designerrankings.com
About A' Design Award
The A' Design Award & Competition is an annual international design award and competition aiming to highlight design oriented products, services and offerings. A'Design Award and Competitions aims to highlight the excellent qualifications of best designs, design concepts and design oriented products by presenting its winners with publication and advertising opportunities. Further information regarding the award can be accessed from http://www.whatisadesignaward.com