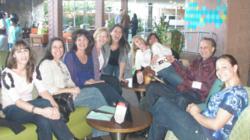 Adapting to rapid growth is a welcome process...said Dr. Robert Korwin
Red Bank, Middletown, New Jersey (PRWEB) April 24, 2012
"How do you manage continuing growth?"... is not a question discussed often in the recent unstable economy, but with the constant growth in Dr. Korwin's practice, his team recognized the need for a structural approach that would allow for economic adjustments. With the help of Whitehall Management, everyone in attendance shared methods of untangling snafus in administrative areas of dentistry in order to promote more efficiency and productivity.
Information shared at the seminar included streamlining new patient visits, better insurance processing, automating processes, new equipment for improved organization, scheduling and documentation.
Other practices at the course ranged in size from solo practitioners to large groups treating many thousands of patients.
With these new strategies, Dr. Korwin and his team hope to make the dental experience an even more successful one for both the patient and the dental team.
All the teams joined in celebrating 30 years of continuing success at a party hosted by Greg Stanley at an entertaining Western style 'hoe down' at Pinnacle Peak Steakhouse, where casual dress is the order of the day, and neckties are cut off and stapled to the rafters!
About Dr. Robert Korwin
Robert Korwin DMD, MICOI, MAGD is a renowned general dentist with 30 years of experience, teaching innovating, and practicing in Middletown and Red Bank, NJ. With extensive academic, clinical and didactic training, he is one of only a handful of dentists worldwide who have dual Mastership awards from The Academy of General Dentistry and The International College of Oral Implantologists. Dr. Korwin is a highest honors graduate of Progressive Orthodontic Seminars, awarded to only 2 of 4,000 students in 24 years. Dr. Korwin promotes excellence in preventing orally linked disease and provides highly cosmetic dental repair and reconstruction utilizing orthodontics, implants, surgery, prosthetics and sedation, with laser, digital and computer assisted diagnostics. The practice works with patients to maximize their dental health, ensure their comfort and minimize financial concerns.
For more information, please visit http://www.drkorwin.com or call (732) 219-8900.
Media Contact
Robert Korwin DMD
732-219-8900
http://www.drkorwin.com
###