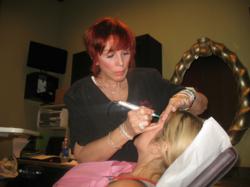 Permanent makeup offers the greatest combination of value and benefits in the beauty industry.
New York, NY (PRWEB) April 16, 2012
It's "found money." And it's coming soon. This is how many people view an income tax refund. According to IRS statistics, over three-quarters of the Americans who file income tax statements this year are expected to receive a refund. The average amount of their refund check from the U.S. Government is more than $3,000. No woman wants to waste it, spend it on something boring, or blow it on something expensive which doesn't have real value. Some will choose to pay down credit card debt or invest their found money. But many women choose to put it back into themselves and their appearance. Permanent makeup offers the greatest combination of value and benefits in the beauty industry.
"Permanent makeup has grown popular for reasons other than saving time and effort every day," says permanent makeup expert Sally Hayes. "Most women are shoppers by nature. We love quality especially when it comes to our personal beauty. But we also love a good deal. Permanent makeup is a really good deal because of the added confidence and convenience it delivers for women and how long it lasts."
After being professionally trained by plastic surgeons, Hayes has performed tens of thousands of permanent makeup procedures over her more than 25-year career doing permanent eyebrows, permanent eyeliner, permanent lip makeup, and cosmetic camouflage. She works primarily out of Permanent Makeup Arizona and Permanent Makeup New York locations, but also regularly sees clients in the beauty meccas of Los Angeles, CA, and Las Vegas, NV.
Permanent makeup has rapidly grown into a multi-million dollar industry following the widespread popularity of traditional body art tattooing. This cosmetic tattooing process also known as permanent cosmetics or micropigmentation is the art of depositing dermatologically tested pigments into the dermis layer of the skin to create the appearance of makeup. Depending on personal factors and preferences, Sally Hayes' clients can get a couple of years up to more than a decade without a touch-up of their permanent makeup.
"Women today lead busy, active lifestyles and the reality of always being judged on your appearance can be a burden," said Hayes. "So you have to ask yourself what your time is worth. And when you compare permanent makeup to Botox or dermal fillers for a similar cost, you get enhanced facial beauty which lasts a woman years not a couple of months. Then looking at the cost and frequency of topical makeup, hair salons, manicures, pedicures and so on, permanent makeup saves a woman both time and money. It's something any woman who cares about her appearance can easily justify with found money from an income tax refund."
About Sally Hayes Permanent Makeup
Sally Hayes is the nation's leading permanent makeup expert artist who has performed tens of thousands of successful permanent makeup procedures since 1988. Many of the top cosmetic surgeons endorse her and refer patients to her. Her popular website is viewed as the leading authority for online information about permanent makeup.
For more information, visit http://www.permanentmakeup.com.