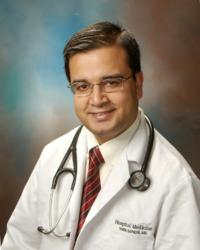 Omaha, NE (PRWEB) April 16, 2012
"Symptoms and Diagnosis", a book project about medical diagnosis, just updated its website announcing that it is a storytelling medical book for patients. With this update, the author Nabin Sapkota, MD attempts to debunk the rumors about the book's target audience by clearly stating who it is written for. Before this clarification, people talking about this book project mostly believed it was written for healthcare professionals.
"It was not very surprising to me that people thought the book was written for medical professionals. Most people seem to believe that people without medical background cannot learn about medical symptoms and diagnosis without preexisting medical knowledge. This book will fundamentally change that concept. I will show my readers how people without any medical background can easily understand complex medical concepts if we follow two basic principles," says Nabin Sapkota, MD, the author of the book project.
The doctor continues, "These two principles are simple yet effective. First, you have to write the medical information in a language people without any medical background can understand. Second, you have to describe the symptoms in relation to real human beings rather than generic patients. These same principles have placed books from such medical authors as Atul Gawande and Jerome Groopman in the New York Times bestseller list. They were able to make medical stories appeal to general population."
"In my book, I will not be using any medical terms as I am not talking to my fellow healthcare providers. I will be talking directly to patients and their families and anyone interested in learning more about human illness. I believe that all medical concepts, no matter how complex they are, can be explained in a simple language without using any medical terms. You just need to capture the attention of the readers and keep them engaged" Dr. Sapkota adds.
The doctor says, "The second principle is what keeps the readers engaged. When we tell a human story and describe the symptoms in real human beings, the readers will be able to relate to them. Every individual is a unique person with feelings, emotions, family, friends, responsibilities and unique interests. When a person gets sick, all these aspects of the person's life gets disturbed and the resulting symptoms depend on the unique circumstances of the individual. This human story is what appeals to the readers and keeps them engaged. They will be able to feel the pain and suffering of these real patients and will be wanting to learn more about the illness to be able to help someone in similar situation."
"Symptoms and Diagnosis" is an open book project and is accepting input from readers at http://symptomsdiagnosisbook.com/symptoms/