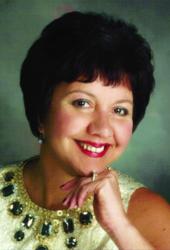 Ms. Bellomo writes about mobsters and millionaires in South Florida.
Detroit, Michigan (PRWEB) April 18, 2012
Patricia Bellomo's sexy crime thriller, Louie Morelli's Daughter, is now on sale for $11.99 per print copy and just $1.99 for Kindle and Ebook versions. A South Florida thriller in which Louie's daughter, Stella, gets kidnapped, the book provides non-stop action. According to Midwest Book Review, it's "a fast-paced action and adventure thriller; highly recommended."
On a scale of 1 to 5, with 5 meaning excellent, Writers Digest evaluates Ms. Bellomo's novel as a 5 in plot and character development. The reviewer goes on to say, "There is not much I did not like about this novel. People are fascinated by the lives of today's mob … whether you believe they exist or not. I would recommend this novel to friends."
Louie Morelli's Daughter provides a colorful South Florida setting, primarily Palm Beach County, with forays into New Orleans and the Detroit area. Her main character, mobster Louie Morelli, is originally from New Orleans. He is purported to have once run the New Orleans mob. Of course, this is crime fiction.
Ms. Bellomo writes about mobsters and millionaires in her novels and on her entertainment blog. Recent blog titles include Secret Sex, April 15, Power Play, April 12, and Easter Eggs, April 7. Relating amusing and intriguing anecdotes, Ms. Bellomo's Millionaire Mobster Blog is written in Louie Morelli's voice.
Patricia Bellomo's books, Stella di Mare and Louie Morelli's Daughter, are available from Amazon and all major book retailers. Louie Morelli's Daughter can also be purchased directly from distributor, Atlas Books. With a Kindle and Ebook price of just $1.99 this is a great opportunity to pick up a good beach read. For signed copies of Louie Morelli's Daughter, please contact the author via her website.