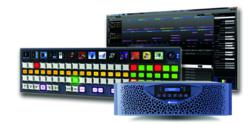 Pixel Power integrated systems and stand alone graphics products give broadcasters choice and flexibility to...make them more effective in their operations and on air."
-Pete Challinger, CEO, Pixel Power Inc.
Las Vegas, NV (PRWEB) April 16, 2012
Pixel Power Inc., (NAB Booth N2034) the leading innovator and supplier of broadcast playout solutions with integrated graphics, brings comprehensive demonstrations of ready-to-ship systems that deliver the company's world-class broadcast graphics to any part of the broadcast workflow.
"Graphics play a role at every step in the business of broadcast television and are essential to building brand recognition and generating revenue," said Pete Challinger, CEO of Pixel Power Inc. "Pixel Power integrated systems and stand alone graphics products give broadcasters choice and flexibility to put world-class graphics capability everywhere it can be used to make them more effective in their operations and on air."
Highlights of innovations to be found at NAB include:

The new Pixel Power ChannelMaster™ integrated playout system combines storage, graphics, DVE, audio, subtitling, real master control switching with available hardware panel control, live feed and long-form video playout, all within a single dedicated hardware platform. (Link: More information)
The new Gallium™ integrated, sophisticated and scalable scheduling, asset management and automation system for playout facilities that need automated control of Pixel Power transmission devices, including ChannelMaster, for graphics or complete channel playout. (Link: Product announcement)
BrandMaster™ offers complete master control and high-end automated branding graphics in a single integrated system that efficiently brands channels without the need for standalone graphics systems. More than 200 channels have now been deployed worldwide since the award-winning product debuted at NAB. (Link: Product news)
Enhanced support for social media and second screen display applications is available across all Pixel Power product lines. The company has announced a collaboration with VDS that enables deployment of end-to-end solutions for integrating social media with broadcast playout. (Link: Announcement)
Expanded options for newsroom and other live graphics applications including stunning graphics capabilities such as the creation of real-time 3D graphics for news and sports.
For more information about Pixel Power products and to reach our sales team, visit http://www.pixelpower.com.
About Pixel Power
Pixel Power provides innovative graphics production and delivery systems for broadcasters, OB truck companies, playout facilities, post-production houses, venues and sports complexes. Our award-winning branding and promotions systems, integrated channel playout systems, graphics-enabled master control switchers, and sophisticated HD/SD switchable graphics production systems allow producers to deliver dynamic live and pre-recorded content for any SD, HD, 3D stereoscopic, mobile, online or interactive application.
For more than 20 years Pixel Power's engineering prowess and dedication to customer support have made it the industry's first choice. Our customer base of over 2000 systems includes market leaders like ABC, Astral, CBC, Disney, Discovery, ESPN, HBO, MTV, CNBC and Technicolor.
Headquartered in Cambridge, England, Pixel Power has a subsidiary located in Burbank, California and a Middle East office in Dubai, as well as a global network of carefully selected and trained distributors to support any requirement.