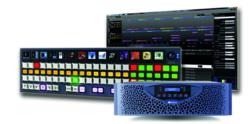 "Broadcasters need to ask themselves how they would return to air quickly if their primary systems were to be disabled."
-Pete Challinger, CEO, Pixel Power Inc.
Las Vegas, NV (PRWEB) April 16, 2012
Pixel Power Inc., (NAB Booth N2034) the leading innovator and supplier of broadcast playout solutions with integrated graphics, today reported that delays involving radiological scanning at the Port of Long Beach have led to a rare opportunity for broadcasters attending NAB 2012 to watch first-hand as Pixel Power ChannelMaster™ integrated playout systems are applied to bringing channels back on air after systems failure. Last minute efforts to clear customs failed Friday afternoon, leaving the company without its planned booth and technical infrastructure for the NAB show.
"Broadcasters need to ask themselves how they would return to air quickly if their primary systems were to be disabled. When it became clear that our booth would remain stuck in customs, we experienced an immediate sense of empathy for their concerns," said Pete Challinger, CEO of Pixel Power Inc. "It turns out that this is a perfect application for ChannelMaster integrated playout systems. We essentially were taken off air on Friday afternoon—no equipment and no booth—and here we are on Monday with a comprehensive, multi-channel demonstration of all of our product capabilities ready for viewing by NAB attendees."
ChannelMaster is a family of integrated playout systems that combine storage, graphics, DVE, audio, and subtitling. The systems feature a full master control switcher that can use an available hardware panel control for proper operator control. With built-in support for both live feed and long-form video playout, ChannelMaster is able to quickly and efficiently bring any type of channel to air with no compromises. In addition to disaster recovery, ChannelMaster is an ideal solution for any multi-channel playout operation.
Challinger said, "The scenario we face today is similar to that faced by any broadcaster whose operations may be threatened by natural or man-made disaster. There are valuable lessons to be learned from this event."
For more information about Pixel Power products and to reach our sales team, visit http://www.pixelpower.com.
About Pixel Power
Pixel Power provides innovative graphics production and delivery systems for broadcasters, OB truck companies, playout facilities, post-production houses, venues and sports complexes. Our award-winning branding and promotions systems, integrated channel playout systems, graphics-enabled master control switchers, and sophisticated HD/SD switchable graphics production systems allow producers to deliver dynamic live and pre-recorded content for any SD, HD, 3D stereoscopic, mobile, online or interactive application.
For more than 20 years Pixel Power's engineering prowess and dedication to customer support have made it the industry's first choice. Our customer base of over 2000 systems includes market leaders like ABC, Astral, CBC, Disney, Discovery, ESPN, HBO, MTV, CNBC and Technicolor.
Headquartered in Cambridge, England, Pixel Power has a subsidiary located in Burbank, California and a Middle East office in Dubai, as well as a global network of carefully selected and trained distributors to support any requirement.