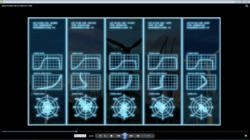 "Accurate forecasting and planning is essential to the financial success of wind parks,"
-Steve Smedberg, Weather Central senior vice president for enterprise.
Copenhagen, Denmark and Madison, Wisconsin (PRWEB) April 15, 2012
Weather Central, LP, today announced that it will reveal the company's next generation Wind Power Yield Forecast (YIELD FORECAST) at EWEA 2012 in Copenhagen, Booth C3-C58. In addition to the system's first public showing, Weather Central has announced that the YIELD FORECAST system has begun testing at the Madison Gas and Electric "Top of Iowa" wind park, as well as at parks in Europe. Testing at sites in Asia will begin soon.
Weather Central YIELD FORECAST will provide wind park operators and utilities with more accurate, actionable predictions for the power output from a wind park for the following 24-48 hours to help them extract the maximum value from the wind-generated power. YIELD FORECAST specifically addresses the need for operators to predict their output on a day-ahead basis and to prepare responses to real-time fluctuations in output. Globally, poor forecasts are estimated to cost wind operators in excess $500 million (U.S.) due to: having to sell excess power at low or negative prices, being forced by shortfalls to buy energy from other sources in the real-time market in order to meet commitments, and having to pay penalties and tariffs imposed on them for inaccurate yield forecasting.
"Accurate forecasting and planning is essential to the financial success of wind parks," said Steve Smedberg, Weather Central senior vice president for enterprise. "Weather Central Wind Power Yield Forecast brings to bear the most sophisticated combination of proprietary forecasting experience, precise high resolution data, customized prediction models and computing technology ever assembled to address this requirement and provide greater return to wind park owners and operators."
YIELD FORECAST is unique because it is the only solution for the wind energy industry where a single company controls the entire forecast chain. This provides Weather Central with unmatched flexibility to optimize the forecast not just for each wind park, but actually at the level of individual turbines for peak precision. The Weather Central YIELD FORECAST solution combines on-site data feedback and input from the customer with proprietary Weather Central technologies including:

MicroCast™ numerical weather prediction model
-Advanced neural network and other statistical analysis

DataCloud™ data serving technology
-Interactive map-based visualization tools
For a complete look at Weather Central's solutions visit http://www.wxc.com/windenergy.html.
About Weather Central, LP
Weather Central, LP, founded in 1974 by broadcasters and meteorologists based in Madison, Wisconsin, is the leading provider of professional on‐air, online, print, mobile and enterprise weather solutions and forecasting to major customers worldwide. Utilizing the Company's dynamic weather graphics, precise forecast models and data, and patented technology, more than 1000 partners and hundreds of millions of consumers worldwide benefit from Weather Central's attention to weather presentation, detail and insight.
© 2012 Weather Central, LP, Madison, Wis. All rights reserved. Product specifications and availability are subject to change without notice. Weather Central LP, Fusion, Fusion Studio, :LIVE, GENESIS:LIVE, 3D:LIVE, ESP:LIVE, MagicTRAK, LiveLine GENESIS, A.D.O.N.I.S. MicroCast, A.D.O.N.I.S. FutureCast, StormSentinel DV, WxWarn2, ScreenWRITER, SportsWRITER, SimulCAST, X‐Vision, Storm Vitals, TelePath, RainVision, SnowVision, FunnelPATH, CellPATH, HailZONE, GustZONE, MessoPATH, Always‐On Training, Instant Mapping and WxPoint are either registered trademarks or trademarks of Weather Central LP. All other trademarks contained herein are the property of their respective owners.