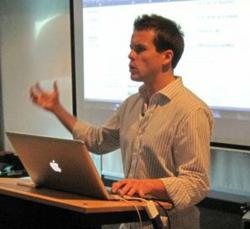 Social media is the popular method of communicating and sharing, and with over 46 years worth of videos consumed on Facebook alone - every day - the numbers clearly show that web video is here to stay.
Melbourne,Australia (PRWEB) April 20, 2012
Once upon a time, stay-at-home consumers only had traditional TV to entertain them. As the internet integrated itself as a daily part of life, cable companies didn't take much notice of this quiet threat to their industry. The believed the world of being found and favoured by the search engine goliath Google was just something for Search Engine Optimisation (SEO) and internet marketing businesses.
But, now with the significant increase in web video popularity (making YouTube the second largest search engine to Google), the times have changed, not only for traditional TV, but for traditional internet marketing methods as well.
U.S. Cable provider Comcast is trying to combat the growing web video revolution by launching Xfinity TV, an app for iPad, which allows subscribers to watch live TV anywhere in their house. This temporary 'band aid' comes with too many hurdles for today's internet viewer because they must be a Comcast subscriber, have the set-top box, and are only allowed to view within the range of their own home.
Today's popular culture wants information and entertainment accessible at their fingertips – fast – and wants to be able to share it with their friends and family. So, why bother with all that extra cable stuff when you have YouTube or Hulu, right?
And finding web videos to watch is generally easier than using most cable companies' remote controls, with websites incorporating video being 50% more likely to get highly ranked in Google than if just the relevant keywords were used.
Not only does adding a video to a website increase its chances in the Google rankings, the fact it can be shared via social media sites like Facebook and Twitter makes it more appealing to the viewer while expanding the video owner's reach exponentially. Social media is the popular method of communicating and sharing, and with over 46 years worth of videos consumed on Facebook alone - every day - the numbers clearly show that web video in Melbourne is here to stay.
Although businesses would love to use this new, effective way to put themselves in front of potential consumers, using web video as a tool is still relatively new and more difficult to produce.
David Jenyns, SEO expert and Director of Melbourne SEO Services, noticed the importance of web video in its infancy and realized his clients would need this precious new resource of getting video-hungry traffic. "Applications like Comcast's Xfinity are good, providing live TV and on demand movies, but in my opinion, are a day late, and a dollar short" says Jenyns.
So, where does this leave businesses trying to survive in a web video world? "Adding web video to a website involves an additional layer of expertise and professionalism, which puts many businesses on the back foot because they don't know where to start," says Jenyns. "Our clients are used to being on the cutting edge, which is why we've launched Melbourne Video Production," a company specifically designed to assist businesses who want to use web video.
Melbourne Video Production have simplified the process of providing web video to small and medium sized businesses by providing all-in-one packages, which include video SEO.
Let's face it, the internet is a big, faceless sea of coding, so using web video to take away some of that anonymity (especially if the video features a real person) creates a level of comfort that's hard to find online.
Jenyns adds, "By adding a 'real person' to your website, it's like a 'cyber handshake' to the customer. You can also do FAQ video, which is a quicker way to consume information than reading, and top it off with a real testimonial to curtail doubts."
You don't have to be an expert in video production in Melbourne to jump on board this new hybrid of internet marketing and film making. Some mobile phones have HD quality video cameras in them, and with free web hosting services like YouTube, most people can get started with tools they already own, "the key thing here is to just do it!" says Jenyns. "Web video is here to stay, and those who don't incorporate it into their businesses will fall behind, and fast."
There's also the chance of any video uploaded into the public domain to "go viral", like Old Spice (the U.S. cologne company) who made the "The Man Your Man Could Smell Like" commercial. The web video commercial hit a chord with viewers and spread quickly around the globe. It's been viewed nearly 40 million times and the on flow of the exposure saw the company's website statistics soar and their sales spike like never before.
With cable companies scrambling to try and compete with the likes of YouTube, who have more than 3 billion views per day and 48 hours of video content uploaded every minute, David Jenyns notes "this trend shows that traditional TV is dead, and not having web video could be the proverbial 'nail in the coffin' for online business in 2012."
To find out more about this new breed of internet marketing using web video, please visit http://www.melbournevideoproduction.com.au/ or call 1300 662 979 during office hours. We can help with your video marketing Melbourne needs.
Melbourne SEO Services is a boutique search engine marketing company based in Melbourne, Australia - helping small to medium sized business market their business more effectively online. To get world class SEO training vist our site or the complete entrepreneur blog today.