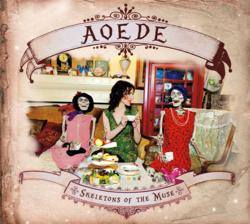 'Poppy, upbeat, heartfelt, passion-filled, talented – those are just some words one might use to describe Aoede.'
MarsBands Reviews
San Francisco, CA (PRWEB) April 17, 2012
Lauded and award-winning singer/songwriter, Lisa Sniderman, aka: Aoede (pronounced A-E-D), will release her second full-length album and overall fourth release, Skeletons of the Muse, on April 17, 2012. In addition, Aoede's Fairy Tale Love & Other Tales of the Muse Music Video Premiere/CD Release Party will take place on Sunday, June 10, 2012, from 6 p.m. to 9 p.m. at ArtZone461 Gallery, 461 Valencia Street, San Francisco. Order tickets at the door and online at: http://aoedefairytalelove.eventbrite.com. Skeletons of the Muse, which was partially funded by fans through Kickstarter, comes a little over one year since the release of her digital EP, Affair with the Muse, in March 2011, which shot her to #2 on Reverbnation's San Francisco pop chart and #41 on the national chart.
Also in that time, Aoede has garnered numerous accolades for her music, developed a popular blog, engaged fans through social media, participated in national motivational speaking engagements where she offers support, advice, and encouragement, and won multiple songwriting awards, including the 2012 Artists in Music Awards Album of the Year for Affair with the Muse, and Best Folk/Acoustic Artist. The Artists in Music Awards gives special recognition to the best unsigned and independent music artists around the world. In March, Aoede was nominated in the Indie Music Channel Awards for Best Female Folk Artist, Best Folk Producer, and Best Folk Video Under $5,000.
She's accomplished all of this, plus more, in quite the unorthodox fashion and against a very fierce obstacle - while suffering from a rare connective-tissue disease called Dermatomyositis for which there is no known cure. Dermatomyositis attacks and weakens the immune system, muscles and skin as well as the mind and spirit. If left untreated, Dermatomyositis could result in complete muscle wasting and long-term disability, as well as other complications. Faced with what, to some, would seem like a battle against insurmountable odds, Aoede revels in the challenges she faces every day.
Her drive and spirit are an indelible testament to her determination to create, motivate, educate, communicate and perform for her fans through numerous mediums. So much so that Music Connection Magazine said, "Aoede (Lisa Sniderman) has a fizzy, fancy-free persona conveyed with a hint of Brit-ness a la Lilly Allen... charming ukulele fueled Love Proof whose quaint simplicity and deft vocal harmonies recall the Ditty Bops. This artist has a unique spirit."
To listen to Skeletons of the Muse, one would never suspect that the individual responsible for this radiant and inspirational body of work continually faces potentially unknown risks and rewards from years of radical and experimental treatments as part of ensuring a clean bill of health.
A large part of Aoede's healing process is creating new music and connecting with her fans through her website, http://www.aoedemuse.com, and various motivational and public speaking engagements. All have become sources of strength and encouragement for herself and those individuals who are going through emotional and/or the same, or similar, rare physical issues where little information and support exists.
Aoede as the 'muse' is a central theme to her life, because of the one fundamental item she has learned from being stricken with Dermatomyositis, "I have become more compassionate of others and have become very empathic," she states. "Therefore, I feel I have become a muse to many. Meaning that by telling my story, others are inspired to tell theirs or pursue some passion or joy that's inside their hearts despite obstacles that they cannot control."
Skeletons of the Muse will feature new remixed and remastered versions of the seven previously released tracks from Aoede's March 2011 release Affair with the Muse, along with six new original tracks. According to Aoede, "Skeletons is about making amends and friends with ghosts of my past, with my roller-coaster present and even with my uncertain future." While music is Aoede's lifeline, her songs, offer tremendous inspiration and support. Aoede wrote the song Perfect Day after communicating with a bed-ridden fan that also suffers from a debilitating muscle disease who is constantly in need of breathing support. In spite of his ailment, this fan finds empowerment, motivation and great joy through webmastering a site for an orchestra, is passionate about his hobby of ship-spotting from his bed and discovering and supporting new recording artists on the internet. Aoede states, "What I realized after reading his story, it wasn't just his journey I was lamenting, it was my own. It was the first time that I allowed myself, through music, to acknowledge my own limitations."
Can't Stop the Music is a bouncy, upbeat, feel-good Lily Allen-esque tune about the omni-present music that emanates from every fiber of Aoede's being and the world around her. Gravity is a Pixies-vibe-ish tale of unrelinquished love's relinquishment and the feeling of gravity's effect on one's heart when another's heart has moved on. Skeletons is the revelation of her private darkness and journey to redemption and light through the confrontation of fears, vulnerability and the specter of death, while the driving Bittersweet acknowledges the dark side and the dirty laundry of one's past where, Aoede states, "you taste both the good and bad in someone you love." Days Like This, with its ethereal vocals, is a hauntingly throbbing keyboard-based ballad that ponders "no one said the world, life and love would be so hard, especially when looking back on the magic and ease of being a child… but, then again, no one said life would hold so much beauty and wonder either."
Fans of Ingrid Michaelson, Regina Spektor, Feist, Lily Allen and A Fine Frenzy resonate with Aoede's prodigal and passionate songwriting skills that synergistically blend melody and lyric into compellingly captivating musical vignettes conveyed in her imitable breathy, bouncy, and enchantingly quirky soprano. Aoede was WomensRadio.com's recipient of a Top Album of the Decade honor, and Top Artist of the Year for 2008, in recognition of her CD release, Push and Pull.
An avid philanthropist, Aoede is also a co-founder of WomenROCK (http://womenrocksf.wordpress.com/), a Bay Area-based women-in-music advocacy group, and a driven environmentalist with a passion for water resources.
For additional information, interviews, and journalists wishing to review Skeletons of the Muse and other Aoede music, please contact Christopher Buttner, at 415-233-7350 or email: chris(at)prthatrocks(dot)com
For digital distribution inquiries, please contact Jerome Forney at IDCDigital, at jerome(at)independentdistro(dot)com
For more info please check out, http://www.aoedemuse.com/
For more info about Dermatomyositis, please visit: http://www.myositis.org/
Accolades:

"Poppy, upbeat, heartfelt, passion-filled, talented – those are just some words one might use to describe Aoede."
MarsBands Reviews
"This album is like a cool breeze on a warm summer day. You'll find yourself deep in empathy, as if her words were meant for your ears alone."
Sqwerm Music Review
"I receive thousands and thousands of submissions for airplay from all over the world, and you were chosen from all of those submissions because I feel that you are one of the BEST independent artists out there right now. Way to go! "
Christopher Ewing, The Radio Cafe ReverbNation Indie Music Countdown
"Once every blue moon, the universe is blessed with the laughter of an angel. There may be a blue moon for awhile because the musical vibe of Aoede encompasses that angelic sound. Beyond the voice, there is inspirational songwriting and a metaphysical presence within every note… Her story is as compelling as her willingness to share it with the world."
Independent Music and Media
"One of the fun things about diving into a sea of mostly DIY music is "discovering" an unsigned artist who could be the next big thing. At a very least, it's easy to find more than a few folks who are going to have exciting careers which I will enjoy following. One is San Francisco area singer/songwriter Aoede (Lisa Sniderman, who also has a bitchin' blog). With a vocal style similar to Feist or Fiona Apple, her songs are more lush and ornate than either."
Walking on a Wire-Artist of the Week
"Bringing pop worthy hooks together with alt rock instrumentation and smoky production..."
Massive Music
"It is a story-telling, magic-making kind of music… her vocals add a lightness, a radiance that dances on the edges of the music itself. It's like the halo on an angel, the shimmering light on a firefly's back."
San Francisco Voice
Read the entire list of Aoede Awards and Reviewer and Fan Accolades Here: [http://aoedemuse.com/muse/about/aoedes-accolades/