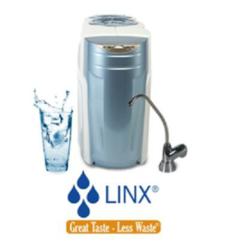 Earth Day is a great time to start on your resolution to conserve water! LINX technology lets you do exactly that without sacrificing water quality or taste.
San Carlos, CA (PRWEB) April 17, 2012
Two years ago, Pionetics Corporation rolled out a drinking water system that was dramatically different from any other water technology on the market - the LINX® Drinking Water System. In this brief time span, Pionetics estimates that the LINX Drinking Water Systems have saved an estimated 50 million gallons of tap water from being flushed down the drain.
"Water conservation is a hot topic today, with many communities enforcing water restrictions, raising water and wastewater rates, contending with diminishing supplies, and seeking out new water sources. Most consumers do not realize that in a typical household setting, a traditional reverse osmosis system can waste nearly 10,000 gallons per year, depending on water usage, feed water pressure and temperature, and feed water quality. When you multiply that waste by the 4,000 LINX units installed, we estimate that as much as 50 million gallons of water could have been saved. That's tap water that has been treated and purchased by homeowners, and then flushed down the drain, without ever having been used," said H. Martin Jessen, Vice President of Pionetics Corporation. Jessen continues, "Everyday the amount of water we waste in our homes is phenomenal. When compared to our limited water supply, it's obvious we are in trouble if we don't do all we can to conserve."
LINX Drinking Water Systems are offered through Authorized Dealers in an under-the-sink model or as a bottleless water cooler. Both systems offer three features not possible in any other drinking water technology on the market today:

Dramatically less water waste than Reverse Osmosis systems - see our video Insane Water Waste
Operates using "smart" software and display lights that communicate detailed system status to the consumer
Dial-A-Taste® Control that allows the consumer to adjust the mineral content and taste of their drinking water.
Jessen explains that not only does the LINX Bottleless Water Cooler reduce water waste, but there are many other benefits as well. "In addition to saving water, the LINX water cooler reduces petroleum usage, human effort - no bottles to move, storage space, and plastic waste. It simply makes sense for any office or home." This video demonstrates the LINX Water Cooler difference.
LINX technology uses an ion exchange process, but uses electricity for regeneration rather than chemicals. LINX systems are controlled by programmable software that allows consumers to adjust the system to produce the water taste they prefer all while conserving water compared to an RO system. To learn more about this technology, visit the company website at http://www.LINXWater.com.
Pionetics' products are available through Authorized Dealers around the world. Currently there are 38 Dealers in the U.S., Italy, and the Middle East. Jessen said, "These are exciting times. With the absolute latest, cutting edge technology, the water treatment business is going to boom. From just the Aquatech convention in Amsterdam and the WQA convention in Las Vegas, we have inquiries from 125 more potential dealers. People understand that this is the beginning of something great."
Pionetics is currently signing new distributors. Anyone interested in becoming a distributor anywhere around the world - should contact H. Martin Jessen at 480-836-0887.
About Pionetics Corporation:
Pionetics is an innovative water technology company that develops smart water treatment products that produce great tasting, safe drinking water with less waste than traditional water treatment systems. Pionetics is privately owned and financially backed by Kline Hawkes & Co, NGEN Partners, and Unilever Technology Ventures Fund.
Pionetics is located in San Carlos, CA. To date, Pionetics has been issued over 50 patents worldwide to protect its proprietary know-how and innovative technology.