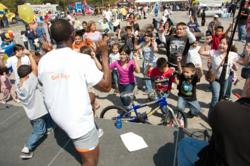 it takes a community to raise a child
Dallas, TX (PRWEB) April 17, 2012
Bright and early Sunday morning April 29th volunteers from Fit-for-Me and Fellowship Dallas will descend on the Bea's Kids Carrollton Tutoring Center to encourage children enrolled in Bea's Kids afterschool program to move and learn about staying fit, eating healthy and setting goals for a long, healthy, successful life. The children will be treated to a bounce house, hula-hoops and other fun activities as well as a free lunch all donated by volunteers and members of the Fellowship Dallas community.
Don Miguel, executive director of Fit-for-Me chose the Bea's Kids tutoring center for the special event after visiting the center and speaking with the children about his passion for fitness, healthy lifestyles, and goal setting. "I believe it takes a community to raise a child, whether it be a church, community non-profit or a congregation of people sharing similar values about education and physical activity-April 29th Fellowship Serves is about community," notes Don Miguel.
Fit-for-Me's mission is to advocate and advance physical fitness and wellness programs and services directed to better the lives of young people ages kindergarten through college. Together with major philanthropic institutions and corporations, the foundation seeks to bring resources that reinforce physical fitness and wellness to the Greater Dallas community. For information on Fit-for-Me Foundation's programs and/or to become a partner, visit http://www.fit-for-me.org.
Fellowship Bible Church Dallas is a nondenominational church located at 9330 North Central Expressway, just off the northeast corner of the intersection of Park Lane and Central Expressway. For further information, visit http://www.fellowshipdallas.org.
Bea Salazar, Bea's Kids founder, expressed her gratification for the special event by saying, "The Bea's Kids organization and the children's parents are very grateful to Fellowship Dallas and Fit-For-Me for giving the children an opportunity to experience something so enjoyable that most of the parents cannot afford to do for their children."
Bea's Kids' mission is to provide educational and personal development programs to children from low-income families so they will stay in school and break the cycle of poverty. For more information about Bea's Kids programs, visit http://www.beaskids.org.