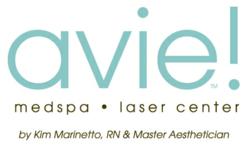 We selected some of our most popular services to offer at reduced prices for three days, so everyone will have a chance to participate.
Leesburg, VA (PRWEB) April 16, 2012
Today Kim Marinetto, RN, MA, and Betsy Vasquez, MD, FACS, announced AVIE! Medspa and Laser Center's Three-Day Celebration. This event will commemorate AVIE!'s three-year anniversary in Leesburg, VA, and will take place on April 19th from 9am to 8pm, April 20th from 9am to 6pm and April 21st from 9am to 3pm. To celebrate, AVIE! will express its client appreciation with special savings on popular treatments. The three-day festivity will also include a chance to relax and socialize during an evening gathering on Thursday, April 19 at 6pm, when customers will mingle with AVIE! staff while learning about the latest state-of-the-art, minimally-invasive aesthetic treatments.
"This three-day celebration is to show our clients just how much they mean to us," says Kim Marinetto, RN, Master Aesthetician and co-owner of AVIE!. "We selected some of our most popular services to offer at reduced prices for three days, so everyone will have a chance to participate. We look forward to seeing both new and old friends during this very special event."
AVIE!'s three-year anniversary events will include special savings and rewards on treatments that that will rejuvenate, refine and restore the skin on the face, reduce the appearance of lines and wrinkles and provide the final touches with physician-grade skin care and award-winning makeup. Guests will also enjoy additional savings on ClearToe, a breakthrough laser treatment, which safely and effectively removes toenail fungus without any pain or side effects.
In addition to the daily specials, AVIE! will host a very special celebration and seminar beginning at 6 p.m on Thursday, April 19th. The fun-filled evening will feature refreshments and special giveaways as well as an informative session with AVIE!'s professional team. For more information on how to participate in the Three Day Anniversary Celebration, call 703.737.0197. The 6 p.m. seminar on April 19th is free of charge, but seating is limited and reservations are recommended.
About AVIE! Medspa & Laser Center
AVIE! Medspa & Laser Center offers the latest in cosmetic medical spa treatments in a relaxing spa environment in Leesburg, VA. Spa Director and Owner, Kim Marinetto, RN and Master Aesthetician, in conjunction with Medical Director and Co-owner, Betsy Vasquez, MD, FACS and their highly-skilled team provide specialized medspa programs so each of their client's needs are addressed on an individual basis with personalized follow-ups. Their treatments have minimal to no downtime. Services include: ProLipo™, Botox®, Juvéderm®, Microdermabrasion, Chemical Peels, Micro Laser Peels, Photo Facials, Skin Tightening, Pro Fractional Skin Resurfacing, Laser Hair Removal, Clinical Facials with Professional Skin Analysis and Medically Supervised Weight Loss. AVIE! also carries physician level skin care and make-up, as well as offering gift certificates for special occasions. Consultations are complimentary, and financing is available. For more information please call 703-737-0197 or visit http://www.aviemedspa.com.
About Kim Marinetto, RN & Master Aesthetician
Kim Marinetto has over 20 years of experience as a Registered Nurse, and in the past 5 years has focused her practice on cosmetic medicine, adding to her credentials a Medical Aesthetician Certification in 2006, along with additional certifications in Botox Cosmetic, Facial Fillers, Sclerotherapy and various advanced laser systems. Kim is a certified Master Aesthetician and is licensed with the state of Virginia. Additionally, Kim has done extensive training on laser technology and her coursework is recognized by the AMA.
About Betsy Vasquez, MD
Dr. Vasquez graduated cum laude from Princeton University in New Jersey and received her medical degree from Albert Einstein College of Medicine in New York in 1986. She completed her residency in Otolaryngology-Head and Neck Surgery at Georgetown University in Washington, DC in 1992.