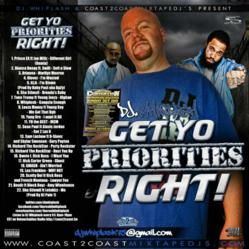 Miami, FL (PRWEB) April 15, 2012
DJ Whiplash recently released his mixtape "Get Yo Priorities Right!" Presented by Coast 2 Coast DJs, it is now available for free download. "Get Yo Priorities Right!" features tracks from some of the industry's hottest major and unsigned acts, including Sha Stimuli, Jae Millz, Prince EA, Brianna, Scotty Boi, iLLA, Tone Trump, Sean Paul, and many more.
It all started around 1986 when Nigel Hickey, aka Whiplash, bought Run D.M.C's new album "Raising Hell." Upon hearing Jam Master Jay, one of the most compelling turntablists hip hop has ever seen, Nigel wanted to do the same. But at the age of 11, he lacked the supplies needed to begin practicing, only having a double tape deck to use.
Many years later, Whiplash started to take that childhood dream of spinning wax and make it a huge part of his life. In early 2002, Whiplash was able to get his first set of tables and a mixer. He spent many hours trying to perfect his craft from the confines of his room. Practicing every day after work and most of his weekends, Whiplash began to turn this "DJ thing," as most called it, into a lifestyle. In late 2002, Whiplash came across the school that his childhood DJ hero, Jam Master Jay, had created: the Scratch DJ Academy in NYC. There, Whiplash was able to hone his turntablist skills of mixing, blending, and scratching. After spending many weekends and some weekdays at Scratch, Whiplash was asked to be a Teacher's Assistant at the school. Excited to help, Whiplash agreed to become a part of this amazing school in New York's East Village, helping instruct students alongside DJs great as Grandwizzard Theodore, Luv Bug Starski, and Grandmaster Caz. He was also given the opportunity to work with former ITF and DMC champ I.Emerge, Jahi Sundance, Max Glazer and the Turntable Twins; Damage & Verge 24/7 has been a very rewarding experience for Whiplash.
Currently, Whiplash is a member of the Coast 2 Coast DJs, The Third Coast DJs, and Funk Shop DJs, and has DJed a number of standing gigs, including Thursday nights at Copas Bar & Lounge in the Woodlands. He is affiliated with the clothing brand 2520NYC, which he met back in 2009. 2520 supports Whiplash by hosting his mixtape on the site (2520NYC.com) with future projects in the works. The company has created a "DJ Whiplash" t-shirt, which helps him promote 2520 clothing. Whiplash also hosts a very successful mixtape series called "Whiplash Radio." Whiplash Radio is broadcasted via PodOmatic (http://djwhiplash.podomatic.com) and iTunes.
Get Yo Priorities Right!" is available for free streaming and download at http://coast2coastmixtapes.com/mixtapes/mixtapedetail.aspx/get-yo-priorities-right