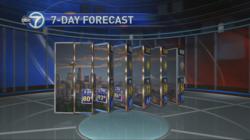 "At Weather Central we no longer think of broadcast, mobile and online as separate—they are all part of a single, consistent, branded experience in which the viewer is immersed."
-Bill Boss, Weather Central VP for media solutions
Las Vegas, Nevada (PRWEB) April 16, 2012
Weather Central, makers of the most viewed weather system in the world, today revealed enhancements across its lines of on air, online and mobile weather presentation systems at the National Association of Broadcasters Show in Booth SL3911. With its latest advances, Weather Central enables media companies to integrate broadcast presentation, web sites, mobile device apps and social media interactivity into a single, seamless experience with No Boundaries.
"Weather Central enables its media company clients to tell the most accurate, compelling weather story to their millions of viewers every day," said Bill Boss, Weather Central VP for media solutions. " 'No Boundaries' means technology works as a natural extension of the presenter, imagery and data speak directly to the individual viewer, and broadcasters connect and interact with their audiences on any platform at any time. At Weather Central we no longer think of broadcast, mobile and online as separate—they are all part of a single, consistent, branded experience in which the viewer is immersed."
Highlights of the Weather Central No Boundaries solution on display at NAB 2012 include:
Weather Presentation
Fusion Studio™ -- expanded 3D graphics capability, seamless social media connectivity, and effortless presentation interfaces, all backed by the industry's highest resolution weather data, enable broadcast weather presenters to dive deeper into the local weather stories that directly impact their viewers. With Fusion Studio, meteorologists are never more than a click away from direct contact with their audience via social media including Facebook and Twitter. (Press release link)
Mobile and Online Content Delivery Solutions
Weather Central's spectrum of digital products is now all HTML5 compatible, including a suite of specialized, ready-to-deploy apps for Android and iOS platforms that can be branded and customized by media companies. Clients can also tap into Weather Central's deep content libraries to increase traction for their existing mobile apps. New apps from Weather Central include:

FutureCast360™ – this unique app leverages an Android or iOS device's onboard GPS, compass, and camera, as well as live weather data from Weather Central to tell consumers how far away weather is that will impact them.
Weather Dial™ -- this new station-branded application takes full advantage of the iPad's capability to deliver a compelling, unique display of the weather with an hour-by-hour, 7-day forecast or future weather map in stunning detail. The unique 'dial' navigation keeps users engaged and enhances a station brand.
Weather Central's new Interactive Toolkit (ITK) is an advanced software development kit (SDK) for developing custom web and mobile forecasting, radar and alerting applications. ITK combines a dynamic display of weather impact data with targeted advertising based upon weather types and user preferences. ITK offers the flexibility and customization media companies need to maximize their on-line and mobile revenues and to ensure that a consistent weather story is delivered across all platforms. Integrated social media tools let viewers share severe weather information and drive traffic back to station websites.
Severe Weather Presentation
ESP:LIVE® – Weather Central's severe weather system has been enhanced to support groundbreaking new dual-polarization radar data for precise display of damaging hail, debris in tornadoes, improved flash flood warnings, and more accurate identification of winter precipitation. ESP:LIVE with dual-polarization radar support enables meteorologists to better inform and alert their viewers when severe weather strikes. (Press release link)
For a complete look at Weather Central's solutions visit http://www.wxc.com.
About Weather Central, LP Weather Central, LP, founded in 1974 by broadcasters and meteorologists based in Madison, Wisconsin, is the leading provider of professional on‐air, online, print, mobile and enterprise weather solutions and forecasting in North America and to major customers worldwide. Utilizing the Company's dynamic weather graphics, precise forecast models and data, and patented technology, more than 1000 partners and hundreds of millions of consumers worldwide benefit from Weather Central's attention to weather presentation, detail and insight.
© 2012 Weather Central, LP, Madison, Wis. All rights reserved. Product specifications and availability are subject to change without notice. Weather Central LP, Fusion, Fusion Studio, :LIVE, GENESIS:LIVE, 3D:LIVE, ESP:LIVE, MagicTRAK, LiveLine GENESIS, A.D.O.N.I.S. MicroCast, A.D.O.N.I.S. FutureCast, StormSentinel DV, WxWarn2, ScreenWRITER, SportsWRITER, SimulCAST, X‐Vision, Storm Vitals, TelePath, RainVision, SnowVision, FunnelPATH, CellPATH, HailZONE, GustZONE, MessoPATH, Always‐On Training, Instant Mapping and WxPoint are either registered trademarks or trademarks of Weather Central LP. All other trademarks contained herein are the property of their respective owners.