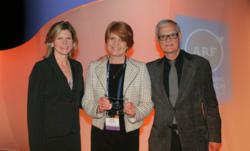 Milwaukee, Wisconsin (PRWEB) April 16, 2012
Research, has been awarded the 2012 Great Minds Silver Innovation Award by the Advertising Research Foundation (ARF).
The award, presented at ARF's "Re:think 2012" conference in New York City at a March 28th luncheon, recognizes Ricker for her pivotal brand passion research. In connection with her award win, Ricker recently delivered highlights from the celebrated study in the leading market research industry publication: Survey Magazine.
Ricker is a recognized brand research leader; responsible for developing a unique approach that sheds new light on the drivers of brand passion and its effect on consumer choice. She developed IMPACT+, a new research model based on the premise that, in the 21st century, the consumer's relationship with brands continues to evolve and that brand destinies are increasingly controlled by the consumer. Managers continue to choose the IMPACT+ model for both consumer and business markets.
About the Market Probe Brand Passion Study
In addition to ongoing brand passion research, and in preparation for the ARF conference, Market Probe conducted a short study to assess not only consumer "passion" for 30 brands across multiple industries, but also how well consumers thought these leading brands might thrive in the future. More than 1,000 general population consumers responded to the online study, resulting in "passion" scores that put Google, Target and Apple at the top of the rankings.
About Market Probe
In addition to its corporate headquarters in Milwaukee, Market Probe has offices throughout the United States and in Canada, Belgium, France, the United Kingdom, the United Arab Emirates, India, Bahrain, Singapore, Hong Kong and China with in-house facilities for field services by web and phone. Market Probe is listed among the Honomichl Top 50 US Research Firms and has been providing business solutions to the financial services industry for more than 30 years. Learn more at http://www.marketprobe.com.