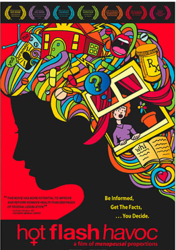 It is time to take menonopause out of the closet and create awareness to the healthy menopause treatment options with bioidentical hormone therapy," said Dr. Paul Savage,
Chicago, Il (PRWEB) April 16, 2012
Menopause can be rough.
"When I think of menopause, I think of hate, pure clean hate," one woman said in the new documentary "Hot Flash Havoc."
"I told my wife if she goes through menopause again, we're getting a divorce," a husband said.
Should women brave their menopausal years with or without the help of bioidentical hormone therapy? Dr. Paul Savage and the Ageology anti-aging physician network say yes! The documentary "Hot Flash Havoc" disputes and challenges the 2002 Women's Health Initiative study that pointed potential cancers risks associated with hormone replacement therapies. The film screens Monday at the Chicago Portage Theater, and producers — aware of the embattled venue's uncertain future — will donate all of the box office revenue to the current management in a gesture of support.
"About 6,000 women reach menopause every day and it is time to take menopause symptos out of the closet and create awareness to the healthy menopause treatment options with bioidentical hormone therapy," said Dr. Paul Savage, CEO of Ageology and expert in the field of age management medicine for men and women. Ageology is Chicago's premiere anti-aging social network designed to connect patients with qualified anti-aging physicians.
According to reports, HOT FLASH HAVOC is the most provocative and revealing documentary ever made about menopause. The documentary sets the record straight about the U.S. government sanctioned Women's Health Initiative (WHI) study released in 2002, which misrepresented that the hormonal replacement therapy being used by millions of women to treat the symptoms of menopause, could actually increase the risk of heart attacks and cancer.
"I applaud the ground breaking efforts Hot Flash Havoc, it starts a dialog with women, men and medical experts around the country, it creates awareness about menopause and gives women a voice to come forward with menopause symptoms," Savage noted. "Women need to do their homework when it comes to today's healthcare."
A nationwide panic resulted after the WHI- causing women to flush their hormone medications down the toilet. As a direct result of women stopping their hormone therapy, women's health has been compromised and in the United States alone it is estimated that up to 25,000 women have unnecessarily experienced heart attacks or death, according to Hot Flash Havoc.
Although life expectancy has increased, the average menopause age remains 51. Hot flashes affect 75 percent of women during perimenopause, the period before menopause, which lasts for about four years. Estrogen loss after menopause affects everything from skin to sex, so it's no wonder that more than 38 million women are taking hormone therapy.
Ageology physicians include Chicago's most accredited preventive health and wellness doctors specializing in treating men and women suffering from menopause, andropause, perimenopause, PMS and other hormonal imbalances using nutrition, fitness and bioidentical hormone therapy. Ageology is dedicated to preventing chronic diseases such as obesity, cardiovascular diseases, diabetes, stress, sleep disorders and the libido pitfalls from aging. Ageology moves away from the "disease" paradigm and towards addressing the common underlying mechanisms of regaining and sustaining long term health. In addition, Ageology creates long-term excellence, appropriate infrastructures and career opportunities for young scientists and physicians.Follow Ageology on Facebook.com/ageology