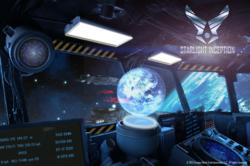 By offering AAA music,an unbeatable art look, and other strategic partnerships...we hope we've positioned ourselves to be noticed by potential fans of the space combat genre, get on the radar...and...develop a game that will knock the public's socks off.
Austin, TX (PRWEB) April 16, 2012
Escape Hatch Entertainment, LLC announced that their space combat game Starlight Inception broke $30,000 in pledges over the weekend, moving them toward their funding goal of $150,000. In addition, they are strengthening their creative team in two key areas.
"The Kickstarter campaign is in full swing," Garry Gaber, President of Escape Hatch Entertainment, stated, "but we still have a challenge ahead of us to get to the finish line successfully. We're a small studio with a new I.P., barely even registering on the radar. We kind of get lost in the noise. So we have to do other things to stand out and be noticed."
One of those things is listening to the backers of the campaign. Even as a small studio, Escape Hatch prides itself on providing personal attention to their backers. Garry adds that "we place their needs very highly, and we bend over backwards to answer questions promptly and to thank each and every supporter. We also give a thoughtful ear to the detractors, listening carefully to the reasons why they have chosen not to support our game, and then taking action to correct those things."
The team at Escape Hatch feels that the art quality and look of Starlight Inception is critical to both survival in the marketplace and to their Kickstarter campaign's success. Therefore the first key area they have concentrated on is improving the art on the Kickstarter campaign page (including pitch video and all materials) as well as releasing a second teaser trailer with new shots on youtube.
Additionally, Escape Hatch has been aggressively interviewing concept artists to help develop the look of the game.
Melissa Gaber, Vice President of Escape Hatch Entertainment states "After seeing some of the incredible concept drawings and art coming into the studio every day from prospective partners and the quality of our revitalized Kickstarter campaign, I'm really excited to see what can be done for Starlight Inception."
The second key area that Escape Hatch has been concentrating on is getting a strong musical score to accompany the rich and engaging storyline of Starlight Inception. They turned to triple Grammy nominated composer and musical storyteller, David Arkenstone. David's past work has been passionate, taking his listeners on a journey, creating sonic tapestries that evoke deep emotions.
David has a worldwide following as one of Blizzard Entertainment's World of Warcraft composers, contributing also to the groundbreaking expansion, Cataclysm.
When asked about working on the Escape Hatch project, David said, "I'm very excited to be part of the Starlight Inception team. The design looks awesome, and I'm looking forward to crafting some unique and powerful music for the soundtrack."
Melissa commented that, "as I was listening to David's collection of music, I was transported to worlds full of magic and adventure. His music is evocative and stirring. I definitely see David's music taking the game to the next level."
Garry adds "By offering AAA music and an unbeatable art look, as well as other strategic partnerships that are still in the planning stage, we hope we've positioned ourselves to be noticed by potential fans of the space combat genre, get on the radar of more journalists, bloggers and forums, and most importantly to develop a game that will knock the public's socks off."
"Starlight Inception's campaign on Kickstarter still needs help to become a reality. We've proven that we can grab people's attention with our art and message," said Garry, "but now we need to finish the race strong, not just the Kickstarter race, but the development of the game as well".
About Escape Hatch Entertainment
Escape Hatch Entertainment is an independent electronic entertainment studio that develops handheld, computer and console video games focused on great gameplay and compelling stories. Based in Austin, Texas, as well as on the Internet at http://www.eschatch.com, Escape Hatch Entertainment was created in 2004 to create both entertainment and learning games.
About David Arkenstone
With three Grammy nominations, twenty Billboard hits, and millions of fans worldwide, David Arkenstone has established himself as one of the best contemporary instrumental musicians of our time. Known for his Celtic inspired, world beat new age fusion, he continues to create distinctive tracks that set him apart from other composers.
Starlight and Starlight Inception are trademarks of Escape Hatch Entertainment LLC. All other trademarks are the property of their respective owners. © 2012 Escape Hatch Entertainment LLC. All rights reserved.
Website: http://www.starlightinception.com
Like us on Facebook at http://www.facebook.com/starlightinception
Follow us on twitter: @escapehatchent
###
If you'd like more information about this topic, or to schedule an interview with Garry Gaber, please call Melissa Gaber at 512-350-3305 or email Melissa at melissa(dot)gaber(at)eschatch(dot)com