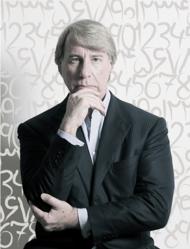 Jim Chanos' celebrated short-sale of Enron shares was dubbed by Barron's 'the market call of the decade, if not the past 50 years.'
Milwaukee, WI (PRWEB) April 17, 2012
What is one good investment idea worth? Both professional and individual investors will be seeking the answer to that question from Jim Chanos, Kynikos Associates, at the fourth annual Make A Difference – Wisconsin Investment Conference on May 9 at the Pfister Hotel, 424 E. Wisconsin Ave., Milwaukee. Modeled after Wall Street Week and the popular Ira Sohn Investment Research Conference in New York City, the speaker lineup for this 4th annual conference promises another must-hear panel prepared to deliver top investment ideas and perspectives.
Jim Chanos, founder and managing partner of Kynikos Associates, New York, headlines this year's conference. Throughout his investment career, Chanos has identified and sold short the shares of numerous well-known corporate financial disasters. His celebrated short-sale of Enron shares was dubbed by Barron's "the market call of the decade, if not the past fifty years." The media has noted his prescience in alerting finance ministers and others to the global financial crisis well before it occurred. His views are regularly covered by news organizations worldwide. He also serves as chairman of the Coalition of Private Investment Companies, testifying before Congress and providing comments to regulations proposed by the U.S. Securities and Exchange Commission and the Financial Services Authority in the United Kingdom.
Leading investment professionals from Milwaukee, called "Milwaukee: America's Mutual Fund Mecca" per Bloomberg News April 12, are also scheduled to provide a compelling investment idea along with market insights. They are Thomas C. Ognar, CFA, managing director & senior portfolio manager, Wells Capital Management; Joseph A. Frohna, founding principal and portfolio manager, growth strategies / co-portfolio manager, 1492 Capital Management; and Richard Imperiale, president and chief investment officer, Uniplan Investment Counsel.
Ognar has been featured in various media outlets including Barron's, USA Today, Investment News, and Investor's Business Daily, and was named a 2011 Mutual Fund All-Star by Fortune magazine. Frohna has been a frequent media commentator in The Wall Street Journal, Investors' Business Daily, Barron's, Smart Money, and Fortune; and appeared on CNBC. Imperiale is the author of Real Estate Investment Trusts: New Strategies for Portfolio Management and The Micro Cap Investor: Strategies for Making Big Returns in Small Companies.
Premier sponsor of the event for the third year is M&I Wealth Management – a part of BMO Financial Group. All proceeds from the conference benefit Make A Difference – Wisconsin, a nonprofit organization mobilizing hundreds of volunteer instructors annually to teach the curriculum in high schools, reaching more than 5,000 students every year with personal financial literacy education.
As it has every year, the Conference is expected be a sell-out. Registration is $200 per person on or before April 20 and $250 afterward. For more information, and table or individual registrations, visit http://www.makeadifferencewisconsin.org.
ABOUT MAKE A DIFFERENCE - WISCONSIN
Make A Difference – Wisconsin, Inc. is a nonprofit organization with a mission to provide financial literacy programs and resources that empower students to make sound financial decisions. Volunteers from the local business and professional community deliver a financial education consisting of three seminars focused on budgeting and saving, understanding checking accounts, and understanding credit cards, credit history/scores, and credit reports. Over 25,000 students have received the program in the almost six years the organization has been in operation.