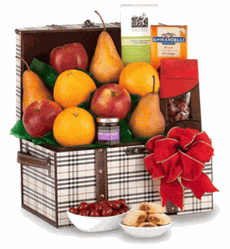 Online companies have to go the extra mile in order to be competitive with brick and mortar retailers.
New York, NY (PRWEB) April 21, 2012
Gift basket ideas abound when one searches online for gift options. And, for many events and holidays, options turn up at local grocery stores, pharmacies and convenience stores. Thus, the marketing department at mygiftbasketideas.com decided to do an informal survey of the variety and quality of gift baskets available from brick and mortar retailers and compare them to the selection and quality available online.
Marketing manager Charlie Hillson, who led the informal survey, had this to say, "We decided to review many of the gift baskets available locally and then compare them to what we find offered online. We looked at price, quality, selection and various other factors. What we found was that the locally available items were simply not up to par with what can be offered by a company that specializes in these types of deliveries. Certainly there were quality chocolates, gifts, and even novelty items in some of the baskets, but we found that they were not all created equally."
"Additionally we found that while a lot of shoppers are prone to picking up cheap gift baskets, they also expect to receive quality items in their baskets. Many of the shoppers that we informally polled during the course of this informal study relayed to us that they were sorely disappointed in some of the products in the baskets. Fruit was not always the freshest, toys for children were poorly made and, in some cases, the toys were inappropriate for the age group the baskets were being marketed for."
When challenged with the idea that even the most understated of gift basket ideas can be costly when purchased from a company specializing in baskets, Hillson responded, "That may be the case with some retailers. However, the majority of online retailers like us will offer a wide selection for every budget. In most cases, our prices are identical to the lower-quality baskets being offered on the shelves of grocery stores. The primary exception, naturally, is that our baskets are filled with quality products."
"Online companies have to go the extra mile in order to be competitive with brick and mortar retailers. They often offer customizable options and a variety that simply can't be met by other types of sellers of gift baskets."
To test their findings, the marketing department did an additional poll of website visitors and niche bloggers. This sampling of audience members seconded their findings that the quality and diversity of product offerings online is better than in local, physical stores. One customer, who asked not to be named, did note however, that soliciting feedback online, is not a scientific method. The department members thus plan to visit in person stores and talk to purchasers of baskets as a second step to their informal poll.
The company's website is http://www.mygiftbasketideas.com.