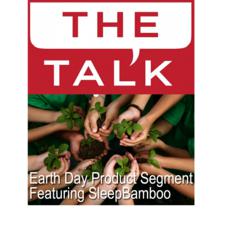 New York, NY (PRWEB) April 17, 2012
This Earth Day 2012, we should all do our part to help the environment. From recycling plastic bottles and cans to choosing bed sheets that are eco-friendly.
The Talk, a CBS daily talk show starring Sara Gilbert (the shows creator) Julie Chen, Sheryl Underwood, Aisha Tyler and Sharon Osbourne (wife of rock star Ozzie Osbourne) is doing it's part to help the environment this ''Earth Day'' with a special program segment.
The segment is entitled ''Must-Have Earth Day Products'' and is taping and airing on Wednesday April 18th at 2PM ET.
An expert, along with the shows hosts, will review ''must-have'' green products for 2012 that consumers can use to help with environmental issues. One of the products that will be featured on the segment is 100% bamboo sheets & duvet covers by SleepBamboo.
SleepBamboo is known for luxurious, eco-friendly, hypoallergenic bed sheets and duvet covers made from organic bamboo fibers. The company was one of the very first to offer bamboo bedding online, dating back to 2008.
Bamboo products offer consumers a way of helping the environment as well as getting a great nights sleep, hence the companies slogan ''Sleep Better, Save the Planet''
Dan Bohero, head of SleepBamboo's sales & marketing team says, ''Our products are a perfect fit for this Earth Day segment of The Talk. They are Green products that are environmentally responsible.''
Says Bohero of bamboo bedding ''Our 100% bamboo sheets and duvet covers have a softness comparable to cashmere or silk.''
They are anti-microbial & hypoallergenic, which naturally repel bacteria and bed bugs.100% bamboo fabric has an incredible thermal regulation element. It's naturally comprised with millions of micro gaps in the fabric that allow it breathe better than any other bedding textile on the market. The result being cooler sleeps in warmer weather and warmer sleeps in cooler weather.
There are four environmentally important elements to bamboo bedding.
Bamboo is a renewable resource, so it continues to grow for years after it is cut at the base of the plant. Bamboo needs no chemical pesticides or fertilizers to grow. Textiles made from 100% bamboo are biodegradable. Bamboo generates more oxygen than equivalent strands of trees.
The Talk reaches over 2.3 million viewers each weekday.
Many of us will be away from our TV's when the show airs during the day, not to worry! CBS has you covered, if you miss the segment you can visit The Talk website to view complete episodes of the show.
To learn more about the advantages of bamboo sheets and duvets covers visit http://www.sleepbamboo.com