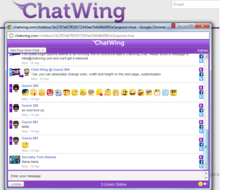 Cambridge, MA (PRWEB) April 16, 2012
Blogging tips can be found everywhere in the World Wide Web. These tips range from the ordinary to the extraordinary, spanning hundreds and even thousands of web pages out there. Anyone can also find blogging tips through blogs created in Wordpress, Xanga, Blogspot, and many more. Another option is to utilize the connecting power of a chat application. Chatwing, an advanced and free chat widget, operates under this premise. Through its simple features, Chatwing connects everyone.
Chatwing may be similar to other chat widgets out there, but its features are more global-oriented. Through Chatwing, anyone can discuss a lot of things and meet new friends. Chatwing is also a stand-alone program—users can now start chatting in the Chatwing homepage. However, once Chatwing is embedded to any blog, its potential will definitely increase.
Chatwing also has a Facebook log-in feature. Through this option, people can now exchange profile information easily. This factor alone contributed to Chatwing's steady ranking. People also admired Chatwing's purple theme. According to some bloggers, the purple theme is relaxing to the eye and entices more people. This makes website chat more fun and exciting.
Using Chatwing is really easy. In a blog where Chatwing is installed, the user can choose a log in option. He can go for Facebook, Twitter, or the Guest Login. Before chatting, the user can select from a wide range of avatar displays. There are also some emoticons to spice up any conversation. Many topics can be talked about in Chatwing. Commonly, visitors talk about the contents of the host blog.
Installation of the Chatwing widget can be summed up in three basic processes: registration, customization, and actual embedding. These processes don't take up much time. Once Chatwing is installed, it will go live in just few seconds. In the customization part, the user can scale the height and width of the widget. He can also change its color to match the theme of his blog.
Blogging tips are more natural if they will come from chatters and blog visitors. Chatwing's website chat function is definitely useful in ways more than one. For new bloggers specializing in blogging tips, using the Chatwing chat box is essential for success. A well-known technique is to post some messages that will act as real-time tips in the chat box. In this way, visitors will be more interested.
About Chatwing
Chatwing.com has developed live chats software for websites and blogs. The Chatwing.com website offers users the ability to signup and create a customizable live chat feature in 1 minute or less. Users have the ability to customize the size, color, and fonts of the chat product. The ability to chat via social media accounts such as Facebook and Twitter enable Chatwing to offer a personal and unique real-time experience to all sites. Chatwing is 100% free web software.