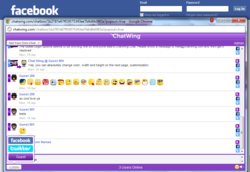 Boston, MA (PRWEB) April 16, 2012
Social network integration has been one of the great techniques of applications and websites nowadays. The most famous social networking site often linked to websites is none other than Facebook. Currently, Facebook has millions of users all over the world. Facebook integration is one of the best features of a free chat widget known as Chatwing. This factor has many benefits to consider.
Chatwing is one of the applications that specialize in website chat. Despite this rate of online competition, Chatwing manages to improve its overall rank because of its simplicity. In the latest release, the Chatwing widget is faster and manageable. Its connection is also more stable compared to the early release. People also loved Chatwing's delicate purple theme. For them, Chatwing's color is totally relaxing to the eye.
According to a specific study done in the blogosphere, the Facebook log-in method appealed to many visitors and guests. This factor led to high visibility rates for most blogs with the Chatwing widget. Many bloggers also commented that website chat has given them lots of information. Through the Chatwing chatbox, tips circulated as well as some current events and trends. The great thing about the Facebook log-in method is the ease of access. Now, visitors can exchange profile information and send out invitations in just few clicks.
Using the Chatwing chats widget does not take much time. First, the user must register his blog or website's domain name to Chatwing. Following that, he can now proceed to customization. In the next step, the user can edit the height, width, color, and title of the widget. This step is advisable for any blogger because appearance truly affects a blog's rate of visibility.
Facebook group makers can also take advantage of Chatwing's Facebook log-in feature. Once they begin chatting through the Chatwing shoutbox, they can click the profiles of users logged in with their Facebook accounts. This is a delicate step for Facebook group makers who are targeting a specific member quota. For those who have an online business, the Facebook log-in feature can also be a big help in the marketing process.
Since there are hundreds and thousands of topics that can be discussed in a single Chatwing chat box, many people consider its reliability. New users can visit Chatwing's Facebook page to know more about its latest updates.
About Chatwing
Chatwing.com has developed live chat software for websites and blogs. The Chatwing.com website offers users the ability to signup and create a customizable live chat feature in 1 minute or less. Users have the ability to customize the size, color, and fonts of the chat product. The ability to chat via social media accounts such as Facebook and Twitter enable Chatwing to offer a personal and unique real-time experience to all sites. Chatwing is 100% free web software.