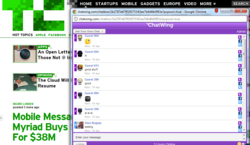 Chicago, IL (PRWEB) April 17, 2012
Sometimes, it is inevitable for a business to suffer from major setbacks. This is because of many external factors, such as the unstable market needs, environmental conditions, management and technical errors, and even delayed marketing efforts. An entrepreneur must realize that business is all about people and timing. The start-up entrepreneur can now take advantage of a simple and free chat widget known as Chatwing. This application is credited for its high rate of connectivity and ease of access.
For many people, Chatwing is just a plain chat box that can be installed to many types of blogs for live chats. This may be true, but Chatwing is above average. Its simplicity has contributed to its stable Internet ranking and it provides a secured chat connection for everyone. People also loved Chatwing's relaxing purple color. Some of them even noted that purple is the new color of the chatter generation.
A down-sliding business may benefit a lot from Chatwing. Since Chatwing is all about communication, any business will be able to send an important message to the public. Chatwing also serves as the voice of the people because they can always send out their concerns, opinions and sentiments. Installing Chatwing to a blog can be the right move to fuel up any rebranding process. It is true that rebranding takes time, but Chatwing can definitely ease that.
One of the strongest features of Chatwing is the Facebook log-in method. This allows the monitoring blog admin to send out Facebook invitations with ease. Twitter log-in is also possible, allowing the blog admin to invite followers. Apparently, blog visitors can now talk to each other and also exchange profile information easily.
There are many chat sites operating under the same premise. However, only a handful of them can go head to head with Chatwing's standards. Most of them don't have Facebook integration, wherein this can truly attract more visitors for any blog. Chatwing also empowers the premise of website chat to engage more guests and visitors in the long run.
About Chatwing
Chatwing.com has developed live chat software for websites and blogs. The Chatwing.com website offers users the ability to signup and create a customizable live chat feature in 1 minute or less. Users have the ability to customize the size, color and fonts of the chat product. The ability to chat via social media accounts such as Facebook and Twitter enable Chatwing to offer a personal and unique real-time experience to all sites. Chatwing is 100% free web software.