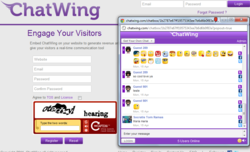 New York, NY (PRWEB) April 17, 2012
The customer is the backbone of any imaginable business. Without customers, a business will never thrive and will definitely face attrition in just few weeks or months. This is why many entrepreneurs are spending a lot of time in conducting proper customer relationship management or CRM. To help start-up entrepreneurs catch up with the tide, developers created a free chat widget known as Chatwing. This application specializes in proper and stable communication in the least possible time.
Chatwing has been around for quite some time already, yet it is still considered new in the industry. However, many people are beginning to realize its true potential. Some even noted Chatwing as the 'chat box of the new generation.' Many people love to discuss topics under the Chatwing chat box. Common topics discussed are blog contents, fashion trends, hobbies, business opportunities, Hollywood, current events and many more chats.
Chatwing supports any CRM improvement move by providing an avenue of communication for people. A simple avenue indeed, for people don't need to download or pay for anything. As a bonus, chatters can now exchange profile information with each other because of the Facebook log-in feature. Entrepreneurs who are conducting a specific CRM strategy can embed the Chatwing widget for blogs they own. Once embedded, people will be drawn to their blogs, and they will begin to bring up a lot of things. These can be their comments, sentiments, opinions, important questions, and suggestions that can be really helpful for the business.
Embedding Chatwing does not take too much time. First, the user must register his blog or website's domain name. Following that, he must create an official account that will serve as dashboard for all the widgets he is planning to use. The next step is customization. While many chat sites offer basic customization options, Chatwing obviously raises the bar. Now, users can modify the height, width, color, and title of the widget. This is useful for entrepreneurs who are just crawling their way up.
It is also evident that website chat is a relevant Chatwing specialty. Through this, people can learn a lot while being entertained at the same time. This clearly means that many people will always return to the blog or website that has entertained them.
About Chatwing
Chatwing.com has developed live chat software for websites and blogs. The Chatwing.com website offers users the ability to signup and create a customizable live chat feature in 1 minute or less. Users have the ability to customize the size, color, and fonts of the chat product. The ability to chat via social media accounts such as Facebook and Twitter enable Chatwing to offer a personal and unique real-time experience to all sites. Chatwing is 100% free web software.