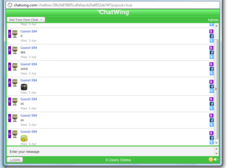 San Francisco, CA (PRWEB) April 19, 2012
Chat boxes, then, are just little additions to websites and blogs. Many people overlook them. Today, however, things have changed for the better. Chat boxes boomed and entrepreneurs have discovered numerous ways to properly utilize them. One of the best chat sites today is Chatwing. This simple, yet advanced communication tool is known for its quick service and stable connection. It is widely recognized in the blogging community.
Chatwing may appear like the 'chat box next door' but it is actually a powerful engine that can reach many people simultaneously. One of its strong features is Facebook integration. Through this, guests and visitors can log in using their Facebook accounts. This allows the chatters to exchange profile information with relative ease.
This is useful for business clients in ways more than one. First, Chatwing serves as an avenue of communication for the clients. Through Chatwing, the clients can bring up issues, questions, or service inquiries. A wise blog or website admin will always address their concerns because clients have the tendency to become impatient. Second, Chatwing provides entertainment for clients. After posting inquiries, they can begin chatting with other people as well. This is the reason why some bloggers often post questions and discussions in the chat box. This makes Chatwing livelier, raising the potential of the blog to attract more visitors. Clients can even use cool emoticons that can mirror what they feel about a specific product, event, or service. They can also select from a wide range of avatar displays. Chatwing's developers have announced that they will continue making more displays to choose from.
Installation of Chatwing's free chat widget is definitely easy. Domain registration and account creation are the first important steps. Customization is the following step. The user can customize the height and width of the widget by adjusting two sliders. Color can also be changed to fit the theme of the user's blog. After that, the user can rename the title of the widget. Once this move has been forgotten, Chatwing generates a random string. Once everything is complete, Chatwing can now generate the HTML code needed for the actual embedding.
There are many chat sites that are similar to Chatwing, yet they don't bear much potential. Some of them even have subscription fees. New users are advised to use Chatwing because of its reliability and speedy function.
About Chatwing
Chatwing.com has developed live chat software for websites and blogs. The Chatwing.com website offers users the ability to signup and create a customizable live chat feature in 1 minute or less. Users have the ability to customize the size, color, and fonts of the chat product. The ability to chat via social media accounts such as Facebook and Twitter enable Chatwing to offer a personal and unique real-time experience to all sites. Chatwing is 100% free web software.