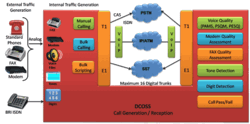 The Digital Central Office Switch Simulator (DCOSS) converts a PC (portable, tower, rack-mount) into a digital central office switch simulator, PBX and switch, complete with T1, E1, POTS, and VoIP Interfaces
Gaithersburg, MD (PRWEB) April 17, 2012
GL Communications Inc. a leader in providing PC-based test, analysis and simulation products and consulting services to the worldwide telecommunications industry, conveyed today the availability of its product Digital Central Office Switch Simulator (DCOSS) software.
Speaking to media persons, Mr. Robert Bichefsky Senior Manager of the company said, " The Digital Central Office Switch Simulator (DCOSS) converts a PC (portable, tower, rack-mount) into a digital central office switch simulator, PBX and switch, complete with T1, E1, POTS, and VoIP Interfaces."
He added, "A user-friendly graphical interface (GUI), through which complex switching, signaling, and digital transmission functions are easily controlled, provides the ease of operation as well as the flexibility required from telephony test equipment. In addition, the DCOSS provides a user-friendly GUI, remote client access (GUI, CLI, SDK), and scripting with which users can capture the performance of networks in a wide variety of scenarios."
Mr. Bichefsky further added, "DCOSS is ideal for simulating and testing advanced telecom networks and products, including switches, gateways, and transmission systems. The DCOSS can also be used for verifying T1 E1 signaling protocols of new systems. These protocols include a variety of T1 E1 CAS, PRI ISDN, BRI-ST ISDN, SS7, No Call Control, Fax over T1 E1 (V.29, V.27, V.33, and V.17), Modem over T1 E1 (V.21, V.23, V.34, V.90, and V.92), and VoIP protocols (SIP, H.323, MEGACO, MGCP, Fax over IP – T.38)."
Important Features
·User-Friendly GUI
·Portable system with digital T1/E1 trunks, SS7, PRI/BRI ISDN, POTS (Plain Old Telephone Set) and VoIP Interfaces
·Test Central Office, PBX, Gateway, Analog/BRI/VoIP Networks
·Support for up to 16 T1's and/or E1's in single DCOSS system
·Ability to select, through software, whether board is T1 or E1 (requires optional hardware)
·Generates and Receives Manual or Automatic Calls simultaneously on any or all timeslots
·Record and Playback of PCM Voice Files simultaneously over all timeslots.
·Supports Voice Quality Testing using PESQ (ITU-T P.862.1/2).
·Real-Time FAX Call Generation/Reception (V.29, V.27, V.17, V.33) simultaneously over all timeslots. Includes Fax Quality Assessment.
·Send/Receive Modem Traffic (V.21, V.23, V.34, V.90, V.92) simultaneously over all timeslots. Includes Modem Quality Assessment.
·Transmit and Detect DTMF/MF digits simultaneously over all timeslots
·Transmit and Detect Single- or Dual-Frequency Tones simultaneously over all timeslots
·Switches Calls among Timeslots/Trunks with Protocol Conversion capability
·Pass/Fail Calls using User-Defined Pass Criteria
·Real-time status of each call
·Real-time statistics with hourly information
·Save and Load Protocol, Trunk and Dialing Parameters as User-defined Configurations
·Multiple 2-Wire (RJ11) -> (up to 64 interfaces) Standard Telephone Interfaces (FXS)
·BRI ISDN European ST-Interface (16 port)
·VoIP Protocols and Fax Simulation when combined with GL Gateway
·Manual or Automatic ANI (Caller ID) Generation
·Remote Access Capability (Client/Server) using GUI or Command Prompt. Access to OCX/DLL to develop user-defined client.
·Automatic Bulk Call Generation/Reception for load testing digital/analog trunks
·Bulk Call Scripting with simple point-and-click script setup. Allows for conditional commands as well as script looping.
About GL Communications Inc.,
Founded in 1986, GL Communications Inc. is a leading supplier of test, monitoring, and analysis equipment for TDM, Wireless, IP and VoIP networks. Unlike conventional test equipment, GL's test platforms provide visualization, capture, storage, and convenient features like portability, remotability, and scripting.
GL's TDM Analysis & Emulation line of products includes T1, E1, T3, E3, OC-3, OC-12, STM-1, STM-4, analog four-wire, and analog two-wire interface cards, external portable pods, and complete system solutions. Capabilities include voiceband traffic analysis and emulation across all traffic types (voice, digits, tones, fax, modem), all protocols (ISDN, SS7, GR-303, Frame Relay, HDLC, V5.X, ATM, GSM, GPRS, LTE, etc.), and with capacities up to thousands of channels. Our newest products provide astonishing capacity and capture capability up to and including gigabit speeds.
GL's VoIP and IP products generate / analyze thousands of calls and traffic simultaneously with traffic types such as frames, packets, voice files, digits, video, tones, noise, and fax. Almost all codecs are supported including G.711, G.729, AMR, EVRC-A,B,C, GSM, iSAC, and many more. Additional features include visual analysis, real-time listening, and recording. The product line also includes Ethernet / IP Testing capability that simulates and checks frame transport and throughput parameters of Ethernet and IP networks, including delay, errors and other impairments.
GL's Voice Quality Testing (VQT) product line complements all of GL's products. Using ITU-standard algorithms (PAMS, PSQM, and PESQ), GL's VQT provides a widely accepted solution for assessing voice quality in the telecom industry. Voice Quality Testing across multiple networks (T1, E1, T3, E3, OC-3, OC-12, VoIP, Wireless, and Landline) is available.
GL's Wireless Products perform protocol analysis and voice quality assessment on GSM, CDMA, UMTS, and LTE networks. Connections can be made to any wireless phone with automated call control, GPS mapping and real-time signal measurements.
GL's Echo Canceller testing solutions provide the broadest range of simulation and analysis, including line and acoustic echo. GL's compliance testing per G.168. G.167 and P.340 across TDM, IP, VoIP and Wireless networks is widely accepted in the industry.
GL's wireless VQT solutions help assessing impairments to voice quality such as poor mobile phone quality, voice compression and decompression algorithms, delay, loss and gain in speech levels, noise, acoustic and landline echo, and other distortions are easily assessed and accurately measured.
GL's Handheld data testers can test a wide variety of communications facilities and equipment including T1, fractional T1, E1, fractional E1, T3 and E3 modems, multiplexers, CSU, DSUs, T1 CSUs, DTUs, NTUs and TIUs and more. The testers provide convenience, economy, and portability for almost any interface, including RS232, RS-422, RS-530, X.21, T1, E1, T3, E3, and many others.
GL's Network Surveillance and Monitoring products include Probes for TDM, IP, VoIP, ATM, and Wireless networks. An open standards based approach provides a scalable, feature rich, real-time access to network characteristics. Centralized or distributed access, efficient transport and database loading allow compatibility with 3rd party and standards based monitoring systems.