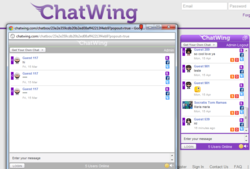 San Francisco, CA (PRWEB) April 23, 2012
Many entrepreneurs have overlooked the marketing aspect before launching a small home business. Marketing can become pretty expensive because some advertisers may charge double or triple rates. Luckily, entrepreneurs can now take advantage of an advanced and free chat widget known as Chatwing.
Chatwing is a versatile chat box that is straightforward and operates on a simple mechanism. It is also a stand-alone program because people can chat in the Chatwing home page right away. However, it has been proven that the Chatwing potential is clearer once it is installed to any blog or website. Chatwing engages customers, and in turn, raises the visibility rate of a blog.
Chatwing supports the marketing aspect of a business by providing a simple source of communication for customers. A business blog may not be good enough without any people-attracting widget at all. If it has zero activity, the business blog can be considered dead. Chatwing is the best choice for simple communication tool because it allows Facebook and Twitter integration. This makes profile exchange possible with chats. Now, the entrepreneur can send out invitations for guests and visitors who logged in using their Facebook or Twitter accounts. Moreover, the visitors can also exchange profiles with each other, giving them chances to make new friends on a regular basis.
Installing Chatwing for any blog is not a fuss at all. The user must register his blog's domain name first. Following that, he can now proceed to customization. He can edit the height, width, color, and title of the widget. After the completion of all steps, Chatwing can now generate the needed HTML code.
Chatwing also encourages people to engage in website chat every now and then. Websites are not just sources of static information. They can also be turned into active lounges where people gather and exchange ideas.
About Chatwing
Chatwing.com has developed live chat software for websites and blogs. The Chatwing.com website offers users the ability to signup and create a customizable live chat box feature in 1 minute or less. Users have the ability to customize the size, color, and fonts of the chat product. The ability to chat via social media accounts such as Facebook and Twitter enable Chatwing to offer a personal and unique real-time experience to all sites. Chatwing is 100% free web software.