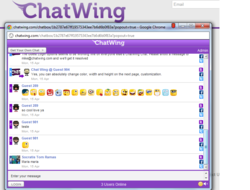 San Francisco, CA (PRWEB) April 19, 2012
Blog marketing has been one of the inexpensive ways to introduce a product or service to the public. By making blog posts with good content, the entrepreneur can engage a lot of customers and establish a good online presence for his business. A starting entrepreneur can now use a free chat widget known as Chatwing. This eases up any blog marketing effort by providing an avenue of fun and better communication.
Chatwing is a simple chat box that operates under the premise of website chat. It is a stand-alone program where everyone is allowed to chat as long as they log in whether as a guest or through Facebook and Twitter. Since Chatwing is a widget, its potential is better explored once it is embedded to any blog or website. This is because of the fact that Chatwing can engage visitors, raising the activity of any blog. It has been proven that a blog with raised activity will have a better ranking in just days or weeks.
Committing to a blog marketing strategy is easier said than done. Through this, the entrepreneur must be able to write good posts daily and communicate with a large base of customers. A well-known technique in blog marketing is to set up the first ten pillar posts of the blog, and continue updating it every now and then. The pillar posts are important because they will establish the presence and purpose of the blog. Commenting is also an age-old technique, but still useful. Exposure is the important thing that can be achieved through blog commenting. This is challenging because many users already know about this technique.
A blog that has been exposed will have double rate of visibility once Chatwing is installed. Backtracked visitors will now be able to enter chats in real-time, allowing exchange of comments, discussions, and even mild debates. The blogger can even post updates and meaningful topics in the Chatwing chat box. There are many chat sites out there, but only few of them can give out the needed spark to entice visitors.
About Chatwing
Chatwing.com has developed live chat software for websites and blogs. The Chatwing.com website offers users the ability to signup and create a customizable live chat feature in 1 minute or less. Users have the ability to customize the size, color, and fonts of the chat product. The ability to chat via social media accounts such as Facebook and Twitter enable Chatwing to offer a personal and unique real-time experience to all sites. Chatwing is 100% free web software.