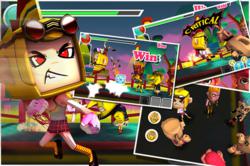 Seoul, South Korea (PRWEB) April 16, 2012
Hiccup Studio has launched their rock-paper-scissors gameplay based bully beat down game in the iTunes App Store, and underdogs everywhere should get ready to rejoice! To celebrate, Lucky Fighter is now being offered for free in the iTunes App Store for limited time.
Lucky Fighter is a quick-to-learn, addictive, action packed casual game for iOS. The main character's task is to face off against 100 lowlife bullies in a dramatic rock-scissors-paper duel that continually devolves to punches in the face. As an underdog against seemingly unbeatable odds, players will take on their customized character's foes using skill and strategy. In-game special items provide a number of perks to set the player up for success, when used wisely.
Lucky Fighter is socially interactive in addition to being an upbeat action experience. Players can tweet and share their scores, and take advantage of Game Center integration to boast of their bully-beating skills. In addition, they can customize the main character with their own face in order to create a personalized hero, and take photos against different backgrounds featuring themselves as the star of the game.
Lucky Fighter relies on the traditional popularity of rock-paper-scissors to create a game that requires very little time to learn. But the game also integrates new challenges and entertaining features—like intimidating bosses and a frenzied mad-attack—to keep Lucky Fighter fresh and unique. The game's edgy comic book-style character design and stylish animation complement its cutting edge attitude.
Lucky Fighter is available now in the iTunes App Store for free which is nothing to pay to make 100 bullies face the music!
Major Features:

Quick pick-up-and-play action
Rock-paper-scissors based gameplay
Quality graphics, inspired virtual camera work, dramatic slow motion for critical hits, and incredible action sequences!
A huge variety of punks to punch in the face
In-game special items like HP boosts, turn roll-backs, and sneak peeks at enemies next moves enhance strategies for success
Game Center integrated for ego-boosting bragging rights
Tweet results and show friends who's a beat down boss!
Customizable fighter puts the player in the pressure cooker
iTunes Link: http://itunes.apple.com/us/app/lucky-fighter-casual-action/id483299684?mt=8