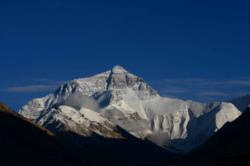 (PRWEB) April 16, 2012
Explore Tibet Team offers a new 8-day Tibet trip to Mt. Everest Base Camp to travelers. Explore Tibet Team says: "The Rongbuk Valley, with the world-famous high-altitude monastery, Rongbuk glacier, and access to the North Base Camp, makes traveling to Mt. Everest in Tibet a once-in-a-lifetime experience."
Travelers to the Everest Base Camp (EBC) must pass through the city of Shigatse, which is located about 260 kilometers southwest of Lhasa at the confluence of the Brahmaputra and Nyang Rivers. Following the Friendship Highway, a former trade route that runs from Lhasa to Kathmandu, travelers reach the small town of Tingri which boasts spectacular views not only of Mt. Everest, but also three more of the six highest mountains in the world: Mt Lhotse, Mount Makalu, and Cho Oyu. In Tingri travelers leave the highway to make their way to the Rongbuk Valley.
Rongbuk Monastery, at an altitude of about 5,000 meters, is the highest monastery on earth. It belongs to the Nyingma sect, the oldest of the four schools of Tibetan Buddhism. Shrines within the monastery are devoted to Sakyamuni, also called simply Buddha, and Guru Rinpoche, the sage guru responsible for the spread of Buddhist teachings throughout Tibet in the 8th century. The monastery was built in 1899, and later rebuilt following its destruction during the Cultural Revolution of the 1970s. It lies at the north end of Rongbuk Valley, and is world-famous for its' unique location and spectacular views of Mt. Everest and the surrounding Himalayan peaks. The monastery houses about 30 monks and nuns year-round, and offers a guest house for travelers and climbers.
Expeditions to Mt. Everest pass through the Rongbuk Monastery and make their base camp near the Rongbuk Glacier, located about 8 kilometers southwest of the monastery. The EBC in Tibet, also called the North Base Camp, is at an elevation of 5,150 meters. The "tourists' base camp" located at a distance from the climbers' base camp is accessible by vehicle. The views from this area are breathtaking, and the monastery and base camp are a not-to-be-missed attraction for anyone taking a Tibet tour.