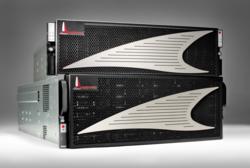 Compared to other storage solutions, we found Starboard Storage to be the best fit for managing our data growth.
Broomfield, CO (PRWEB) April 17, 2012
Starboard Storage Systems announced today that the Marine Biological Laboratory (MBL), an international center dedicated to scientific discovery, research, and education based in Woods Hole, Mass., is using the Starboard AC72 Storage System to improve the efficiency and performance of it storage systems. The MBL is currently using Starboard Storage AC72s to store research data produced by its newly launched next generation biological sequencing system.
MBL's data storage needs arose earlier this year when it implemented the sequencing instrument, which generates images of DNA molecules used for large-scale genomic transcriptomic and metagenomic projects. The challenge the MBL faced was in managing the live data for over 16-24 active experiments per year, each experiment generating 3.25TB of data, in a mixed-workload environment that included unstructured and structured data.To meet these new and growing demands the MBL needed a storage solution that was fast, easily expandable, and fit within budget parameters.
The company chose the Starboard AC72 Storage Systems for both primary storage and data archiving. The AC72s combined SSD Accelerator Tier and Dynamic Storage Pool, dramatically simplified the management of MBL's storage environment, while at the same time delivering twice the performance at half the cost of the company's legacy DAS and NAS systems. The solution met the company's immediate storage needs and it scalability will continue to meet MBL's expanding needs well into the future.
"Compared to other storage solutions, we found Starboard Storage to be the best fit for managing our data growth," said Rich Fox, system administrator at MBL. "As an administrator, I appreciate how Starboard Storage sets the bar for consolidating and simplifying management of mixed workload environments and delivering the industry's best price for performance. We are thrilled with the results we have seen so far and will be adding on additional Starboard Storage capacity in the future."
Customer Benefits:

Reduced costs – by choosing the Starboard Storage solution, the MBL was able to save thousands of dollars in capital expenditures compared to other storage systems.
Comprehensive storage features – as its storage needs continue to evolve in the future, the MBL can easily manage unpredictable workloads with Starboard Storage software for thin-provisioning and replication of volumes and file shares across multiple protocols.
Improved performance – Starboard Storage outperformed the companies previous storage systems, while consolidating mixed workloads on a single platform.
Easy affordable scalability – The Starboard Storage MAST architecture enables the MBL to seamlessly manage significant Terabytes of expansion every year with no additional staff or software licenses required.
"Our Starboard AC72 Storage Systems tackle the toughest storage problems facing Small and Medium Enterprise IT administrators today — the ability to manage mixed storage workloads," said Russell Wine, director of sales of Starboard Storage. "We take the guesswork out of having to manually optimize storage performance — allowing companies like The Marine Biological Laboratory, to concentrate on achieving higher-value business objectives."
For more information on Starboard Storage please contact Starboard Storage sales at sales (at) starboardstorage (dot) com or 888-734-7726.
About Starboard Storage Systems:
Starboard Storage Systems is the innovator in Application-Crafted Storage™ systems for mixed workloads. Starboard Storage tackles the toughest storage problem facing small and medium enterprise (SME) IT administrators today — managing mixed storage workloads that include unstructured, virtualized, and structured data. Starboard's AC72 Storage System delivers on the promise of sophisticated yet easy-to-manage storage for mixed workload environments. Starboard's MAST architecture changes the price/performance equation relative to today's SAN and NAS offerings. http://www.starboardstorage.com
About The Marine Biological Laboratory
The Marine Biological Laboratory is dedicated to scientific discovery and improving the human condition through research and education in biology, biomedicine, and environmental science. Founded in 1888 in Woods Hole, Massachusetts, the MBL is an independent, nonprofit corporation. For additional information, please visit http://www.mbl.edu.