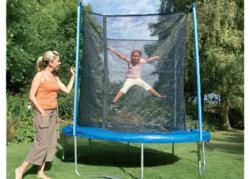 (PRWEB UK) 18 April 2012
Bonnington Plastics Ltd has today expanded upon the range of 'Outdoor Living' products on offer from their website. The new products are being released now in order for retailers to begin stocking them in preparation for summer.
With the UK summer approaching the new product line includes family favourites such as trampolines. Bonington's wholesale trampolines are great fun for children but also for adults and get the whole family outside in the fresh air. Trampolines are easy to transport and store as they're packed into compact boxes ready for a customer to put in their car.
Bonnington Plastics Ltd has also made the new Kingfisher Play Area available for retailers to stock. This product is something that many families would purchase for their children to play safely in the garden. Retailers can sell it alongside some of the other Kingfisher Toys to offer a complete range of garden play for children.
Buying a trampoline is a great long term investment for families as it gets children out in the garden and keeping active. This means that parents save money on utilities with the children being outdoors instead of inside playing on video games. The massive new collection in the 'Outdoor Living' range offers many different products, which means retailers can buy a selection of different goods and take advantage of getting them all delivered at once.
This new range of products is designed to meet the needs of customers that are looking to enjoy the summer this year. However, there have already been several cold spells in 2012 and some retailers may prefer to buy heaters wholesale, in order to help those that are struggling with the cold.
Bonnington Plastics Ltd is a wholesaler and has many different product ranges for retailers to browse through and the range of heaters is perfect for consumers that are still feeling the cold this year.
Bonnington Plastics Ltd is a UK wholesaler. The company have many different ranges including 'Kingfisher' which is manufactured by Bonnington Plastics Ltd. The kingfisher range is popular among gardeners and catering companies offering affordable and durable products.