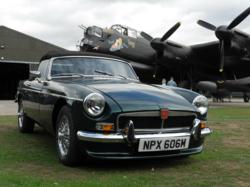 But don't worry if you haven't managed to catch us yet!
(PRWEB UK) 18 April 2012
For those of you who have been lucky enough to have already seen our MGB at one of the shows we have attended in the last six months, you will appreciate how much work has gone in to refurbishing this lovely classic car.
But don't worry if you haven't managed to catch us yet! We will be attending two more shows this year before we hand over the keys to the lucky winner on 23rd September 2012 at the MGB 50th Anniversary at Blenheim Palace. So if you are local to MG Live! (http://www.mglive.co.uk) in June at Silverstone or Goodwood Revival in September (http://www.goodwood.co.uk/revival/), come and take a peek at the stunning MGB that could be yours!
We are now almost half way through Lancaster Insurance's biggest ever prize draw giveaway of a beautifully refurbished MGB and the MG Owners Club (MGOC) are nearing completion of the refurbishment. So we thought we'd ask the club a couple of questions about their experience so far and they've even given us a few little known facts about MGB's.
So why did the MGOC pick this car?
The car was locally sourced and generally in a good condition so the work could easily be carried out during the short refurbishment time frame.
What would they consider to be the worst part of the refurbishing process so far?
As much as you'd wish there wasn't, there are often unforeseen problems with any project you work on and you will always find something that doesn't quite go as planned. However these problems are part of the challenge that the MGOC endeavour to solve as seeing tired classics transformed to their former glory is why we enjoy our job.
What are the high points for this project?
Refurbishing and giving away a vehicle to someone who could only dream of owning a £15,000 classic car will be the ultimate high point of this job. To know that this car will be cherished for many years to come is reward in itself for all the time and hard work we have put into the MGB.
Lancaster's MGB Vital Statistics
Registered 14/08/1973
Engine – 1798cc
Wheel plan - 2-Axle-Rigid Body
Registration Number – NXP 606M
Colour – Metallic British Racing Green
MGB Facts
The very first MGB was built at Abingdon and came off the production line in June 1962.
The final MGB to ever be produced left the factory on the 22nd October 1980.
The long awaited replacement for the MGA took four years to develop into the classic we all know today.
MG chose to increase the power in the new MGB as it was 45lb heavier than then the MGA and they didn't want to lose performance.
If you had purchased the MGB in 1962 it would have set you back £690 + £260 car tax for the standard model.
If you want to be in with the chance to win the stunning 1973 MGB you simply need to call 0800 1313 759 and quote Win an MG or visit our website http://www.lancasterinsurance.co.uk/winanmg. If you are already a customer of Lancaster insurance when you renew you will automatically be entered into the competition.