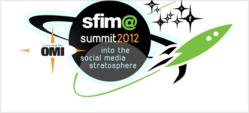 With such a stellar group of speakers and our fantastic partners at OMI, the 2012 SFIMA Summit offers new insights and actionable strategies for taking your social media plan to the next level.
Fort Lauderdale, FL (PRWEB) April 16, 2012
The South Florida Interactive Marketing Association (SFIMA), the region's top interactive marketing forum, in participation with the Online Marketing Institute (OMI), will be hosting the 2012 SFIMA Summit: Into the Social Media Stratosphere on Tuesday, May 15, 8:30 a.m. at Nova Southeastern University. With keynote speaker Rohit Bhargava, and numerous other social media experts, South Florida's premier interactive marketing event will explore the secrets to good social media strategy and its integration into the marketing mix.
Rohit Bhargava is a seasoned marketing consultant and analyst as well as a dynamic speaker and author. His presentation will reference his latest book, Likeonomics and what it means for interactive marketing and social media marketing. Bhargava's presentation style is charismatic and entertaining. Attendees will enjoy real world examples and case studies to support his visionary views about consumer reaction to a company's social media efforts.
"As consumers continue to weave social media throughout all aspects of their lives, businesses and organizations must learn to look at their communications strategies differently," said Nicole Fraley, President of SFIMA. "With such a stellar group of speakers and our fantastic partners at OMI, the 2012 SFIMA Summit offers new insights and actionable strategies for taking your social media plan to the next level."
This year's marketing event program features a robust agenda with two tracks ensuring a wide range of topics to suit all experience levels and budgets. Attendees will discover cutting-edge concepts to help beat the competition and learn about new tools to help integrate social media into email, search, analytics, demand gen, mobile and more.
Speakers at the 2011 SFIMA Summit include:

OPENING KEYNOTE: Rohit Bhargava, Ogilvy - Global Strategy & Planning Group – Digital Likeonomics: 7 Sure Signs Your Social Media Strategy Will Fail (And How To Fix It)
Jay Berkowitz, Founder and CEO, Ten Golden Rules of Marketing -- Social Media Success Stories: Powerful Case Studies for your business and personal brand
Sundeep Kapur, Evangelist, NCR Corp. & Dennis Yu, CEO, BlitzLocal -- How to Master Facebook Marketing in Today's Social Climate
Dick Raman, CEO, BrandReact -- Social+Mobile+Local
Sage Lewis, President, SageRock Web Marketing Agency -- Using Social Media to Impact SEO
AFTERNOON KEYNOTE: Lauren Vaccarello,Director of Search, Display, & Social Advertising, Salesforce – The Power of an Integrated Social Media and Search Strategy
Comscore – State of Social Media - Ground Breaking Research from Comscore
Joe Laratro, President, Tandem Interactive – Social Media Analytis and ROI
Jacques Hart, Roar Media – Digital PR: How to Use Digital and Social Media to Support your PR Efforts
Dannielle Kawamoto, eMarketer – Social Media - Social Media Trends and Opportunities
Kent Lewis, Anvil Media – 10 Essential Elements of a Mature Social Media Marketing Strategy
Maria Harrison, Partner & Owner, BullsEye Strategy – Pinning for Profit
A networking cocktail party, sponsored by Centro, from 5:15 p.m.- 7:00 p.m. will immediately follow the day's educational program.
According to Fraley, "South Florida IMA would like to thank the Online Marketing Summit for their dedication to bringing top-notch subject matter experts to South Florida and helping to make this year's SFIMA Summit an excellent value for area businesses looking to elevate their interactive marketing strategy."
For more information or to purchase tickets, visit http://www.SFIMASummit.com.
About Online Marketing Summit
Online Marketing Summit (OMS) offers an educational environment that facilitates incredible learning, networking and collaboration opportunities amongst marketers, executives and digital professionals. OMS is singularly committed to its mission to educate marketers on the emerging best practices of online marketing through a professional development conference and exhibition. More than 12,000 marketers have learned, collaborated and networked at OMS events over the years. For more information, visit http://www.onlinemarketingsummit.com. Follow Online Marketing Summit on Twitter @omsummit.
About South Florida IMA
Founded in 2003, the South Florida Interactive Marketing Association (SFIMA) is a non-profit forum for social media experts, interactive professionals, businesses and educators. SFIMA is dedicated to the exchange of ideas, information and best practices, as exemplified by case studies and industry leaders that help members grow their interactive marketing activities and successes. SFIMA's goal is to be the primary interactive voice in South Florida, providing lifelong learning, networking and community outreach opportunities. For more information, visit: http://www.sfima.com.