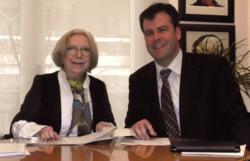 Columbia, MD (PRWEB) April 16, 2012
FDAImports.com has announced a strategic partnership with Barcelona-based MCamps, a consultancy assisting companies with legal, compliance and regulatory services related to pharmaceutical, cosmetic, dietary supplements, medical devices, and food products entering the European Union. MCamps, which has been serving clients for over 2 decades, is led by Owner Mercè Camps Mirò, a 35-year veteran of the pharmaceutical industry. "FDAImports.com is a great support for us to provide a better global service to the clients who intend to enter the U.S. market," said Xavier Bulbena, a consultant at MCamps. FDAImports.com, a Maryland-based FDA consulting firm, will be working with MCamps as a legal and regulatory resource for companies bringing in products to the United States. "The EU exports over $100 billion of FDA- regulated commodities and products to the USA each year. Similarly, the U.S. sends nearly $70 billion of FDA-regulated products to the EU. Our partnership with MCamps will allow us to provide comprehensive regulatory services to our clients in both the United States and Europe," said Rick Quinn, Principal at FDAImports.com. MCamps, based in Barcelona, Spain, recently hosted Mr. Quinn at their offices for strategic planning and business development, seen here signing partnership documents with Owner Mercè Camps Mirò.
About MCamps and FDAImports.com
M. Camps is a pharmaceutical and healthcare consultancy providing extensive legal and technical expertise for the health sector. Industries include Cosmetics, Medical Devices, Pharmaceutical, Dental Hygiene, Pesticides and Biocides, Disinfectants, Foods, Orthopedics and Dental Prosthetics. Contact: gtf(at)mcamps.com
FDAImports.com is an FDA consulting firm helping U.S. and foreign companies navigate through and meet complex FDA regulations for marketing and importing foods, dietary supplements, drugs, cosmetics and medical devices. Benjamin L. England, Founder and CEO, is a former 17-year veteran of the FDA and served as the Regulatory Counsel to the Associate Commissioner for Regulatory Affairs. Contact: Jon Barnes, (410) 740-3403 or pr(at)fdaimports.com.
# # #