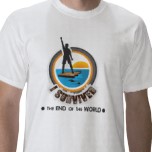 Guelph, ON (PRWEB) April 18, 2012
It may be the end of the world as we know it, but the team at IsTheWorldGoingToEndIn2012.com feels just fine! That's because they're offering a variety of t shirts that allow customers to turn the dire predictions into a fashion statement.
These 2012 end of the world t shirts come with a number of different statements, like "I will survive 12-21-2012" and even "I survived the end of the world" -- for people who are confident they are going to wake up on December 22, 2012 to business as usual. There are also end of the world t shirts available for people who aren't quite as confident, with slogans like, "I'm not making plans past 2012".
But is the world really going to end in 2012?
That's what the ancient Mayans thought. Their calendar ends on December 21, 2012. The Bible also talks about the world ending, and there are some ties in it to the December Mayan date.
So, how is the world going to end in 2012?
Some say a giant asteroid will take out Earth, others think solar flares will be Earth's undoing, while others say a polar shift will destroy the Earth's crust -- leading to massive volcanic eruptions, earthquakes, and tsunamis. In any event, there isn't much people can to do prepare -- outside of having some fun by purchasing end of the world t shirts.
Even if 2012 doesn't signal the end of the world, t shirt buyers will have a fun souvenir to remember them of their survival!
For more information, log onto IsTheWorldGoingToEndIn2012.com