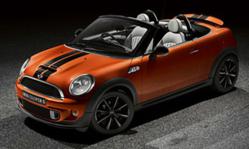 (PRWEB UK) 17 April 2012
The new MINI Roadster has arrived at Cooper MINI dealerships nationwide.
Driving enthusiasts throughout the UK can now book a test drive of the all new MINI Roadster at one of the many Cooper dealerships across the country. From just £18,020 it is expected that those looking to upgrade their current vehicle will be keen to buy the latest offering from MINI.
The new MINI Roadster combines style with fuel efficient performance by using critically acclaimed MINIMALISM environmental technology to deliver maximum powertrain efficiency. The latest generation of fuel efficient four-cylinder petrol and diesel engines offer excellent mpg with low CO2 emissions, and to add to the green credentials of the Roadster range, electric power steering the speed sensitive assistance come as standard.
As well as being big on performance, the new MINI Roadster is also big on style with a long list of customisable styling options to choose from for the interior and the exterior. Optional extras include MINI Connected, delivering the ultimate in web radio, Google services, RSS news feeds and in-car access to Facebook and Twitter; as well as navigation systems and sports stripes.
To find out more about test driving the new MINI Roadster, call into your local MINI dealership today.