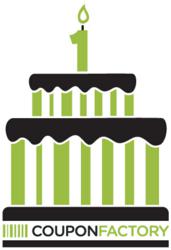 Rogers, AR (PRWEB) April 16, 2012
Launched one year ago, CouponFactory, (http://www.couponfactory.com), is looking back on a year that not only met expectations, but far exceeded them. Built as a part Rockfish's business incubator, Rockfish Labs, CouponFactory quickly spun into its own company, with former Rockfish VP of Retail, Wade Allen, taking the post as President. Within 6 months of launch, the platform was working with popular brands such as Time Inc., Regis Salon and Frigo Cheese Heads. CouponFactory has topped 300 clients, with nearly 500 coupons created. These clients have seen over 35 million impressions, 1.7 million clicks and over a million of their coupons printed. The platform also raked in its fair share of awards and accolades this year, including Best B2B Innovation for Markets in the Media Vanguard Awards, bestowed by none other than AdAge and a shout-out from Facebook in the "Couponing on Facebook" guide sent to advertisers interested in implementing coupons on Facebook.
"I couldn't be more proud of our first year's accomplishments. Our small team and solution has been incredibly nimble and a true market disrupter," said CouponFactory President, Wade Allen. "Next year looks extremely bright as our current sales are strong and our new business pipeline continues to grow."
As for the rest of 2012 and beyond, CouponFactory plans to grow its small business capabilities, focusing on affordability and localization. The team has begun integrating offers with several save-to-loyalty card technology specialists and expansion into this market will continue to increase. Although CouponFactory has already locked in contracts with companies in the US and Canada, international growth remains a top priority. Additionally, CouponFactory has developed APIs to allow for the integration of analytics and coupon building outside of the standard delivery. Further API development continues to be very important for CouponFactory and its clients.
For more information, go to:
http://www.couponfactory.com/blog/a/couponfactory-celebrates-one-million-coupon-prints-in-the-first-year-with-big-plans-for-2012/
About CouponFactory
CouponFactory is a simple, affordable digital couponing/promotions platform that allows you to quickly and easily create, manage, distribute, and measure digital coupons and promotions. CouponFactory.com is owned and backed by Rockfish, a full-service, award-winning digital agency. Brands using CouponFactory include People Magazine, Barilla, Regis and Saputo.