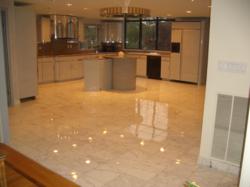 Don't replace, restore.
Morristown, New Jersey (PRWEB) April 24, 2012
The signs of improved economic growth are everywhere these days. People commonly see large construction projects on their morning commutes, and large buildings are popping up constantly. Construction spending in January of this year reached $830 billion, which is a massive 7% increase over last year's growth for the same month. While this type of construction is very good for economic growth, not all types are. It might seem counterintuitive to say so, but replacing an old building or old interiors of a building is less economical for all involved.
Often a building's superstructure will be in perfectly good shape, but its interiors, such as those made of marble, may need restoration. Marble is expensive, and there is often no need for a homeowner to completely replace something so naturally beautiful when cleaning and polishing the stone tiles is an available option. For this reason Paul Barber of Aldayna Stone Care & Maintenance suggests "don't replace, restore" as a motto homeowners should hold when it comes to marble restoration in New Jersey.
By restoring marble and other precious stone countertops and floors in a home the supply of these precious stones is preserved, allowing new stone to be used on new construction projects. Due to the recent growth of the marble maintenance and restoration industry it is fair to say that many homeowners and businesses have caught on to this concept. Aldayna Stone Care & Maintenance is more than happy to educate and assist people in further ways to restore precious marble, granite, and limestone countertops and floors.