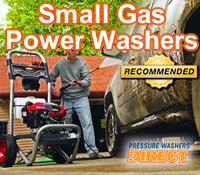 Small gas pressure washers bridge the gap between performance and affordability. You can take on most cleaning tasks around the home, from washing your deck, to your boat, to your fences
Bolingbrook, IL (PRWEB) April 16, 2012
Today PressureWashersDirect.com released its recommendations for the best small consumer gas pressure washers.
"Small gas pressure washers bridge the gap between performance and affordability," said Bill Mikenis, resident product expert at Pressure Washers Direct. "You can take on most cleaning tasks around the home, from washing your deck, to your boat, to your fences."
Top Small Consumer Gas Pressure Washers
Good: Generac 2700 PSI (Gas-Cold Water) Pressure Washer - 6022
Better: Briggs & Stratton 2700 PSI (Gas-Cold Water) Pressure Washer - 20501
Best: PowerBOSS 2600 PSI (Gas - Cold Water) Pressure Washer With Honda Engine - 20453
Most retailers are loyal to whatever is on their shelves. However, PressureWashersDirect.com isn't your ordinary retailer. The online superstore specializes exclusively in power washers and pressure washing attachments and accessories.
The online retailer combined recent sales history, customer reviews and personal insight to generate their final recommendations.
Once the dust and data settled, only 3 consumer small gas pressure washers sold by PressureWashersDirect.com were given their prestigious "Recommended" status.
In addition, the expert staff personally wrote online reviews for each small gas power washer, explaining why the company recommended it.
By providing the recommendations and reviews, PressureWashersDirect.com hopes to arm shoppers with enough ammunition to pick the perfect small consumer gas pressure washer for their needs.
Power Equipment Direct operates 10 niche online superstores. In addition to PressureWashersDirect.com, the Bolingbrook, IL-based company operates AirCompressorsDirect, ChainSawsDirect, ElectricGeneratorsDirect, LogSplittersDirect, MowersDirect, SnowBlowersDirect, SumpPumpsDirect, TillersDirect and WaterPumpsDirect.