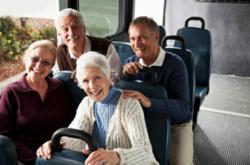 East Hartford, CT (PRWEB) April 19, 2012
Travel Insured International®, the leading privately owned travel insurance provider, has launched a new and improved version of their travel insurance option for group and student group travel protection. The updated Group travel protection programs, which will go into effect April 19, 2012, have been designed in order to provide coverage for group clients' health, safety, and travel costs. The plans offer medical coverage, an available pre-existing waiver, as well as trip cancellation, all at competitive new rates which make travel insurance even more attractive. "Our group products have always been a differentiator," states Isaac Cymrot, Vice President of Sales & Industry Relations. Cymrot continues, "Travel professionals have always appreciated the flexibility that our group programs provide, which allows them to protect more of their clients and generate additional revenue for the agency."
Travel Insured's Group Programs provide non-age based coverage which keeps travel plans flexible and rates constant no matter the age of the participants. Bob Cook, of Go Travel (Orlando FL), explains, "The group products have been a game saver for us. We now offer a non-aged based insurance product for groups comparable in quality and price to the cruise lines and tour operators." Primary medical coverage is also included so travelers are not required to file claims with a primary medical insurer as a first step, as well as avoid out of pocket expense in the event of a medical emergency. Cook adds, "This plan allows us to provide items not covered by cruise line or tour operator insurance such as pre and post hotels, airfare, tours, and registration fees for seminars. It is also a simple policy that includes a nice profit margin, not just a lousy 10% of $59.00."
TII's Group protection policies were created to be as convenient and flexible as possible, in order to adapt to each group's own personal insurance needs. If a traveler needs a wider range of covered reasons for trip cancellation, the Group Deluxe plan now includes Cancel for Work Reasons and allows the option to be able to cancel travel plans for any reason. The plan has also been designed to be flexible enough to support only Post Departure coverage by selecting the $0 trip cost band. This results in a further reduced premium.
In addition, Online enrollment is available for TII's Group Travel policy, which provides immediate confirmation as well as making administering groups as simple as possible. The Group section on the Travel Insured International website streamlines both the group registration, and the management. Cook notes, "If you are selling groups and not selling a Travel Insured group product with it, you're leaving your clients without any protection on their investment. It is easy to sell, simple to manage, and should be an automatic addition to all groups."
About Travel Insured International®
Travel Insured International®, based in E. Hartford, CT, was founded in 1994 by the foresight of insurance industry executive Peter Gehris when he acquired the travel protection division of the Travelers Insurance Company. Plans are underwritten by the United States Fire Insurance Company. Fairmont Specialty and Crum & Forster are registered trademarks of United State Fire Insurance Company. The Crum & Forster group of companies is rated A (Excellent) by AM Best Company 2011. Not all coverage available in all jurisdictions.
Travel Insured International®
52-S Oakland Ave.
E. Hartford, CT 06128-0568