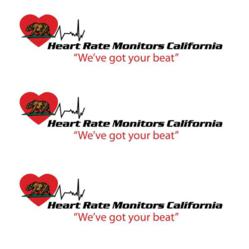 fast delivery to the California marketplace is a priority
Bozeman, MT (PRWEB) April 17, 2012
Heart Rate Monitors California, a subsidiary of Heart Rate Watch Company, Inc., is launching a website dedicated to California offering the best brands in fitness electronics including Garmin, Polar, Suunto, Timex, Wahoo Fitness and several other brands.
The company is offering guaranteed 2 business day delivery on all California orders. "Our goal is to take the first-class service reputation of Heart Rate Watch Company and create a company that offers that same service and fast delivery to the California marketplace is a priority" says Rusty Squire, President of Heart Rate Monitors California.
"To service the California market we are expanding our inventory, offices and employees so we can continue to offer the same great service that Heart Rate Watch Company has become legendary for." says Squire. "The site will start off with a more limited scope of products that are known top sellers like the Garmin 910XT, Suunto Ambit, Polar RCX5, Garmin Edge 500 and others and then we will scale up to several hundred products over the first 2 months to include items like the new Garmin Vector power pedals" continues Squire.
Heart Rate Monitors California will also offer all the latest in iPhone heart rate monitors from Wahoo fitness including the iPhone Ultimate Bike Pack and the new iPhone 4S heart rate monitor called the Wahoo Blue HR.
"We've decided to break down and focus on the higher population center markets with a higher level of delivery speed and service" states Squire. Similar sites are planned for the next year in Texas, New York, Florida and subcontractor Minal Systems has added a number of web developers, coders, and design experts to help facilitate this large scale expansion.
Heart Rate Monitors California CFO Tarie Beck says, "The level of State specific investment planned for 2012 is all going toward systems, the right people, and facilities so we can continue to grow the brand".
Heart Rate Monitors California will be accessible at the URL http://www.heartratemonitorscalifornia.com and will be open for business on April 17, 2012. They will also have a national toll-free number of 866-586-7129 and will sell to the entire US marketplace.